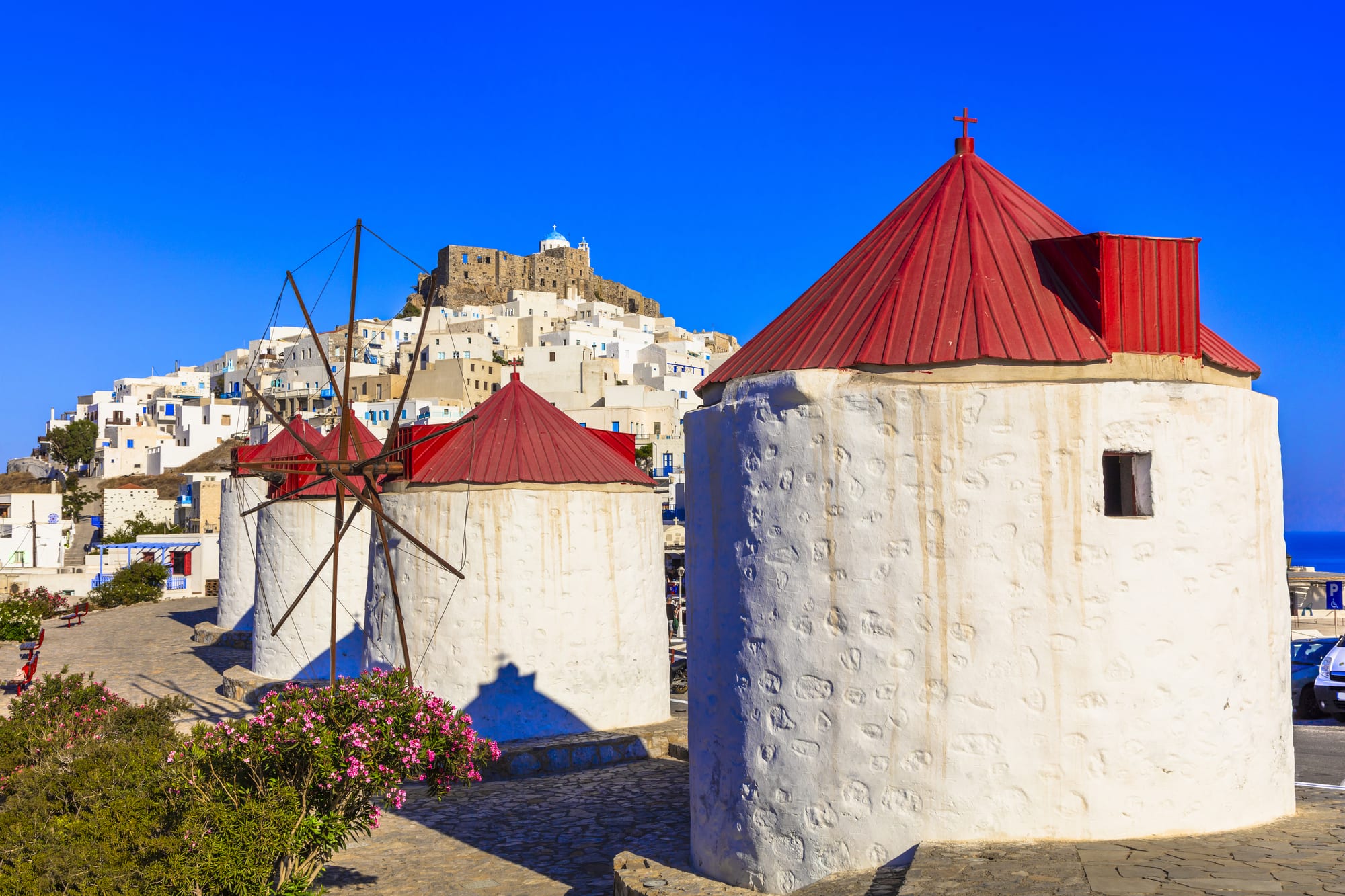 All you need to know about Astypalea island!
The butterfly shaped island of Astypalea lies in the southeastern Aegean sea and is a part of the Dodecanese group of islands. This lovely little island has yet to be discovered by mass tourism and so makes a great alternative destination.
Although Astypalea belongs to the Dodecanese group of islands, it's architecture and charm is very much Cycladic, with its white washed houses, Venetian castles, traditional windmills and blue domed chapels. The island also boasts wonderful beaches of natural beauty offering seclusion and tranquility.
There are numerous amazing sights upon the island that are sure to provide every visitor with a fantastic vacation!
Welcome to Astypalea!
Beaches
The beaches of the island all offer beautifully clean waters surrounded by wild and rugged scenery. Most beaches are very secluded and therefore do not offer tourist facilities, however there are a select few that are more family friendly and provide sunbeds, parasols, water sporting activities, as well as restaurants and supermarkets within the area. The most popular beaches are Pera Gialos, Agios Konstantinos and Livadia. Below are our top picks:
Agios Konstantinos: 7km South of Chora, the island's capital, is the long and sandy cove of Agios Konstantinos. This beach has stunning blue waters and is surrounded by an untamed, rocky landscape dotted with a few rich green orchards. The beach offers basic amenities such as sunbeds and parasols and close by is a lovely Taverna that is open throughout the summer season.
Livadi: Livadi is a coastal settlement 2km south west of Chora. It's beach consists of a long sandy bay and clear blue waters. This beach is family fiendly due to its amenities such as sun loungers, parasols, water sporting activities and tall trees offering shade. Despite being a popular location, this beach still provides a tranquil ambience.
Pera Gialas: Just a short walking distance from Chora is the vibrant beach of Pera Gialas. This beach used to be the island's main port, but today only offers small boating excursions to remote beaches on and around the island. This beach has mesmerizingly calm waters and provides a great spot for both swimming and snorklling. Within close proximity are traditional tavernas and seafood restaurants offering glorious sea views.
Maltezana aka Aila Analipsi: Maltezana, also known as Aila Analipsi is one of the most crowded of the island's resorts. Found 9km south of Chora, its beach consists of a mix of sand and pebbles surrounded by a rocky coastline. The village of Maltezana hugs the bay and offers scenes of white washed houses, tiny chapels and floral courtyards. Found in the village are superb eateries offering traditional, local dishes. The beach's pebbled seabed offers great conditions for snorkling.
The most beautiful beaches on the island are Vatses and Psili Ammos, both reachable by boat from the tiny port of Pera Gialas. They are both worth the journey!
Vatses: Found on the southern coast of Astypalea, 8km south of Chora is the gorgeous beach of Vatses. This small remote beach is reachable by boat and offers a mix of soft blonde sands and pebbles. Its rugged backdrop and teal blue waters create a rather exotic vibe.
Psili Ammos: Psili Ammos can be found north east of Chora and is reachable by boat. This remote beach is
mostly soft golden sands with patches of uneven, rocky terrain. This beach's natural qualities provide fantastic conditions for swimming and especially snorkeling, just be careful getting into the water as some rocks can be rather jagged. There are no amenities surrounding the beach which only add to its untouched charm.
Sightseeing
Due to the island's size and lack of tourism, landmarks of the island are few, although that does not mean the island is lacking in breathtaking sights and exciting experiences; mesmerizing beaches, lush hiking routes and charming villages await your exploration. Below are the landmarks of the island.
Venetian Castle (Chora)
The Venetian castle of Querini stands grandly upon the highest hill of Chora, the perfect location to keep a lookout for pirates and other approaching enemies. It's construction is of black stone and therefore has a very strong contrast to the sea of whitewashed houses surrounding it. The castle was built by John Querini head of a noble Venetian family, whom took rule over the island after the seige of the Constantinople by the Crusaders in 1204. The Venetians continued to rule from the castle for 300 years, with each ruler always making their own modifications to the castle's structure. The castle provides panoramic views of Chora.
The Windmills (Chora)
There are eight traidtional windmills that line the road in the island's capital, Chora. The were built around the
18/19th century and have since then been well preserved. This charming view is one of the most picturesque spots on the island.
Drakos Cave (Vathi)
Drakos Cave- "The Cave of the Dragon" is located close to the lovely fishing village of Vathi. The interior is decorated with colourful Stalactites and Stalagmites.
The Monastery of Saint John (Chora)
Located 12km west of Chora, nestled between two steep slopes is the striking Monastry of Saint John. The Monastery provides spectacular views of the surrounding inslets of Ktenia, Pontikoussa and Ofidousa and it's surrounding gardens and streams only enhance it's beauty.
The Archaelogical Museum (Chora)
The island's archaelogical museum houses prehistoric and medieval aritfacts including ancient jewellery, tools, ceramic pottery, old photograhs of the isalnd and much more.
Church of Panagia Portaitissa (Chora)
Beneath the castle of Querini stands the blue domed church of Panagia Portaitissa. Built in the middle of the 18th century, it is considered to be the most beautiful church of the Dodecanes. Next to the church is also a small ecclesiastical museum housing a collection of old icons.
Church of Panagia Poulariani (Analipsi)
Located in the remote region on the eastern side of the island is the pretty church of Panagia Poulariani. In the churches grounds there is a natural rock formation that resembles the virgin embracing a child. This church is reachable on foot or by boat.
Local cuisine
Since Astypalea is an undeveloped island, it is very easy to find authentic tavernas throughout the island. Each taverna is sure to offer warmhearted hospitality, as well as traditional dishes made with fresh, local ingredients. Be sure to also keep a look out for modern restaurants that put a twist on the classic Greek dishes, there are some superb eateries that have found a great balance of contemporary and tradition. A few local specialties to try include:
Labriano– lamb stuffed with offal and rice Labropites– cheese and saffron pie
Pougia– a type of pie
Since the island boasts clean waters and vibrant fishing villages, Astypalea is a surefire for seafood. Be sure to try dishes such as; oysters, mussels, lobster and squid- they are amazingly fresh and a perfect balance of salty and sweet!
Festivals and events
August 6th: The feast for the Transfiguration of Christ August 15th: The Dormition of the Virgin Mary September 4th: The Litany of Portaitissa and St Anthemos
The summer nights of Astypalea are filled by a series of cultural events including theatrical works, book fairs and musical evenings with contemporary Greek singers.