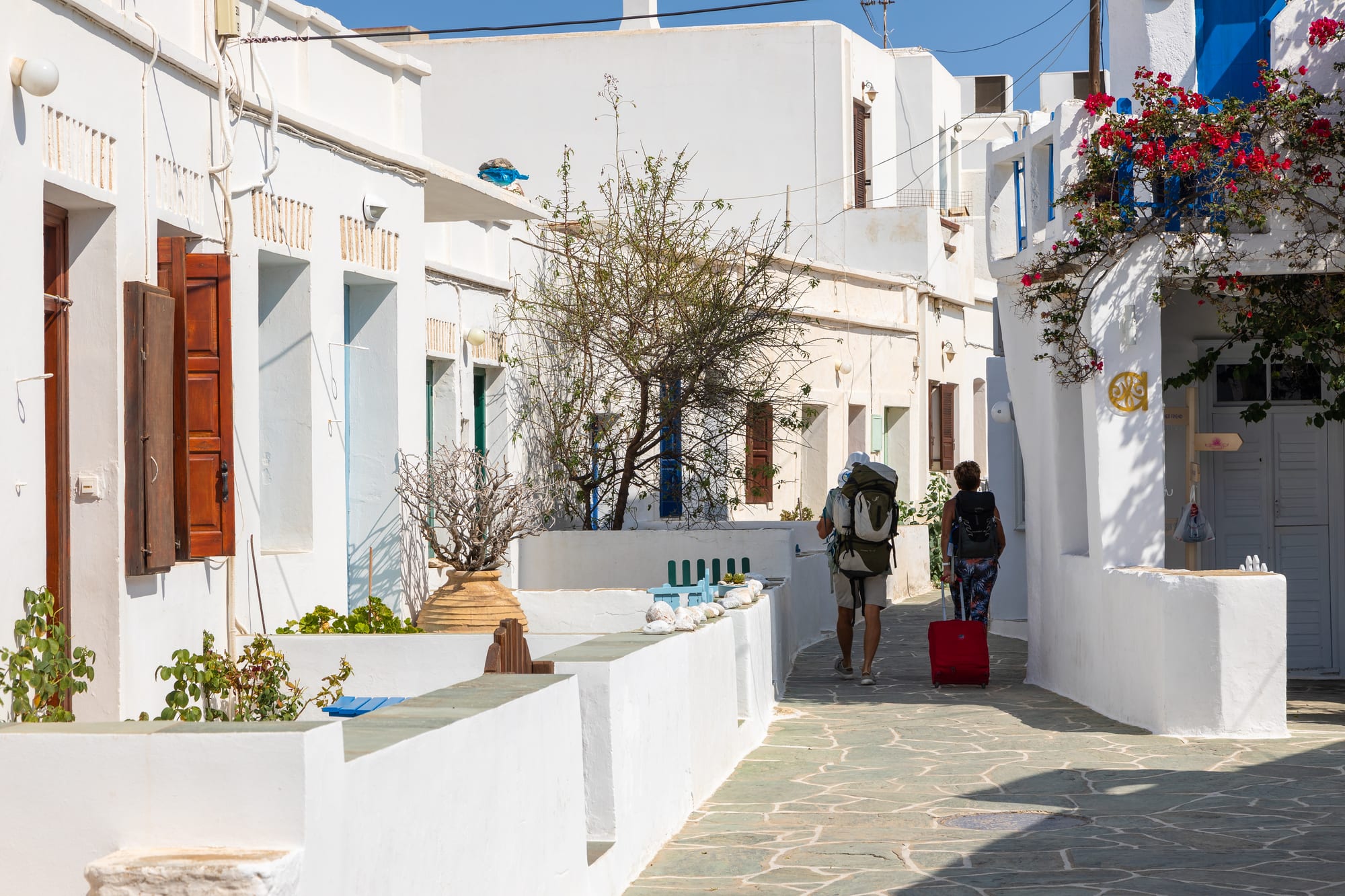 All you need to know about Folegandros island!
Folegandros, the modest little island residing between the islands of Paros and Santorini. It's unspoiled charm and traditional Cycladic architecture make this island postcard perfect. Boasting natural beaches with fine sands and icy blue waters, colourful villages and a calm ambience, this is the island of idyllic aesthetics and serenity. The island's close proximity to the surrounding Cycladic islands make it ideal for island hopping and its underdeveloped tourism make it a great choice for a quiet getaway!
Welcome to Folegandros!
Beaches
Folegandros's beaches all boast a natural charm with their crystal clear waters and tranquil surroundings. Most beaches are unorganised and lack in tourist amenities, but what they lack in amenities, they make up for in pure beauty. The island's beaches can be reached on foot, by bus or by boat.
Agali: Agali derived its name, meaning 'to hug', from the large rocks that literally hug and engulf the small bay. Its calm, bright teal waters create a swimming pool-like effect and therefore provide great swimming conditions, especially for families with young children. Its fine sands are freckled with blue and green sea glass adding a glittering effect to this lovely bay. The beach does not provide umbrellas and sun beds, however there are some wonderful beachside tavernas. This is one of the most stunning beaches on the island and therefore it can get rather crowded during the summer season. Agali beach is located 5km west of Folegandros capital, Chora and can be accessed by bus or boat.
Karavostasi: Found 3km southeast of town and in close proximity to the island's port, this unspoiled beach offers a rugged sandy bay and shallow, calm waters. The beach is lined with large trees offering shade and its hilly landscape is dotted with quaint whitewashed houses. Karavostasi beach is within close distance to other beaches and touristic amenities such as restaurants, shops and accommodation.
Agios Georgios: This tiny bay oozes untouched beauty with its sugar-white sands and icy blue waters. Found 8km northwest of the main town, Agios Georgios beach is subject to strong winds, so make sure to check the weather report before you visit. The beach's rough seabed and crystalline water provides great conditions for snorkelling and its collection of salt cedar trees offer shade to its visitors. Agios Georgios beach is nudism friendly due to its secluded nature.
Ambeli: Ambeli beach is reachable on foot or by boat and is located 8km northwest of Chora. This jagged, secluded cove is pebbled and fringed with azure waters. For those that do choose to reach this beach on foot, stunning views will accompany you throughout your journey!
Ligaria: 8km northwest of town is the tiny, rugged cove of Ligaria. Ligaria beach is very secluded and provides isolation and calm to each visitor, however it therefore lacks in tourist facilities. Its pebbled shore and alluring teal waters can be reached on foot or by boat. Ligaria is in close proximity to the lovely village of Ano Meria, known for its folklore museum and fabulous eateries, so be sure to take a stroll and grab some lunch there.
 
Sightseeing
Due to the island's size, sight seeing is mostly restricted to picturesque beaches, charming villages and lush hiking routes. The few landmarks there are to explore are listed below.
Church of Panagia:
Perched upon a hilltop in the centre of Chora is the wonderful church of Panagia, dedicated to the Assumption of Mary. Built upon the ruins of an ancient temple, Panagia church is of typical Cycladic architecture with white washed walls, large domed roofs and an impressive bell tower. The date of construction is unknown, however we know that it was renovated in 1687. The interior boasts magnificent frescoes, a marble thrown and marble icon. The stone zigzag path that leads to the church takes around 15 minutes to reach the top, with breathtaking views each step of the way.
 
Ecological and Folklore museum:
This elegant museum is a perfect blend of traditional and modern design and offers a cultural insight into early life on the island of Folegandros. The museum houses antique tools and cooking equipment, the remains of an olive press, wine press, pottery and a selection of artwork. The museum stands upon a hillside in the village of Ano Meria and therefore offers spectacular panoramic views of the whole island and surrounding sea.
Kastro (Castle and fortress within Chora):Within the charming village of Chora there remains a small Venetian fortress. Built 200 meters above sea level in 1210, this fortification was built to protect the island's inhabitants against enemy attack. The settlement is still to this day inhabited and hosts an array of events and festivals throughout the year.
Chrysospilia cave:The remote cave of Chrysospilia is located on the northeast side of the island, 30 meters above sea level. The cave measures 300 meters in length and consists of two chambers connected together by a small corridor. In the first chamber, Roman wells and shells have been found and in the second, impressive stalactite formations can be seen. This cave is a significant speleological and archaeological marvel due to the large number of ancient names found on the cave's ceilings and walls. Most of the names date back to the 4th century BC and belong to young adults that visited the island from all parts of Greece.
Aspropountas Lighthouse:The lighthouse was built in 1919 at the altitude of 58 meters. The location of the lighthouse offers breathtaking ocean views.
Castelos:This small rocky peninsula is found on the northern side of the island and provides fantastic sea views. Archaeological excavations have found the remains of a small, prehistoric settlement that dates back to the middle of the 3rd BC millennium.
Georgitsi cave:Georgitsi cave is located on the southeast side of the island. It is only reachable by boat but it is worth a visit if you are keen on snorkelling or scuba diving.
Cultural Association (Chora):Every summer, this colourful and quirky establishment hosts exhibitions of paintings, photography, ceramics and textiles.
 
Local cuisine
When visiting the island, be sure to try out the local specialities:
Souroto: Souroto is a soft white cheese, typically made of fresh goat or sheep milk, or a mix of both. Its texture is soft and creamy and its taste, salty, light and peppery. Souroto is used in cheese pies, salads and pasta dishes, although it is mostly ordered as an appetiser or a snack accompanied by a glass of wine.
Matsata: Matsata is a homemade pasta typically made of flour, olive oil, salt and water. The dough is then cut into Tagliatelle-like ribbons and boiled immediately after making. The pasta is usually served with rooster, rabbit or goat in a rich yet sweet, tomato sauce.
All of the Cycladic islands are renowned for their fresh fish and seafood, so whilst you have the opportunity order some steamed mussels, grilled octopus or fried squid!
Notable events and festivals
Each Greek island has a very strong and very present religious and cultural heritage, with many celebratory feasts taking place each year and Folegandros is no exception. In addition to its religious feasts, the island also boasts a vibrant summer festival, 'Giortes Folegandrou'. The Giortes Folegandrou or in English, 'Folegandros Feasts' is a lively display of theatrical performances, films and music concerts. The streets of the Kastro, Karavostassis port and Ano Meria are filled with locals and tourists yearly, where they can enjoy traditional food, local wine and traditional dancing.
 
Other notable celebrations include:
Greek Easter: April/May
The Assumption of the Virgin Mary: 15th August
Folegandros is a wonderful little island for calm and relaxation. We recommend visiting this gorgeous island in springtime or early summer, as during this period the island is rich with caper flowers, thyme and oregano which combined with the Greek sun and soft breeze create an intoxicating fragrance throughout the island.