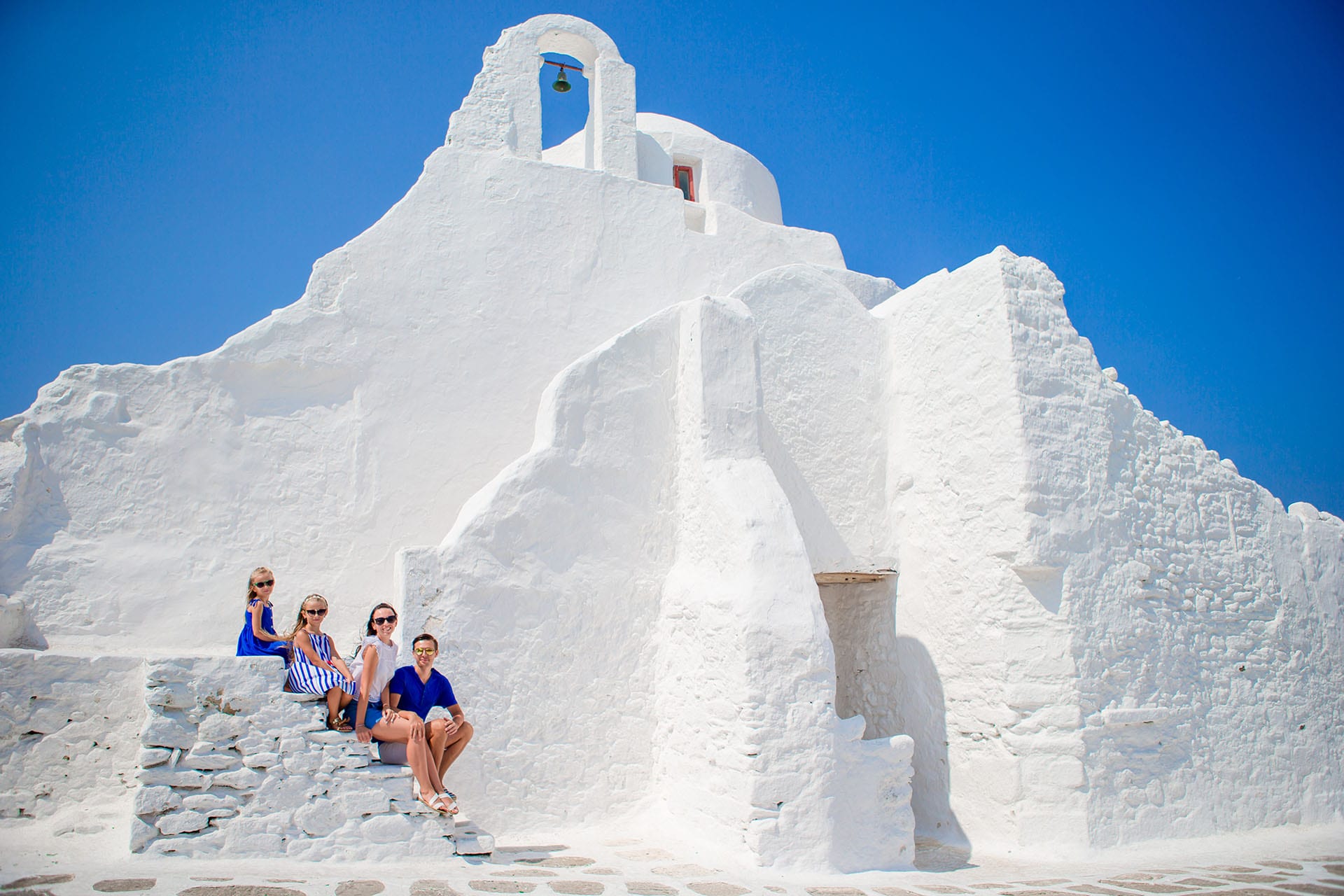 All you need to know about Mykonos island!
Nestled between the port of Athens and the island of Naxos lies the bold and feisty island, Mykonos. This top destination is where the fun happens! Famed for its epic beach parties, legendary clubs, exotic beaches and cosmopolitan vibes, it's no wonder that this island has been referred to as "The Ibiza of Greece".
In addition to its vibrant nightlife, Mykonos is also renowned for its minimal Cycladic architecture. White washed houses with minimal pops of colour create the island's luxurious ambience and its treasured landmarks such as 'Little Venice' and its charming windmills only add to the island's unique character. Whether you are visiting the island for its crazy party scene or just to immerse yourself in its calming landscapes, there is something for everyone on the island of Mykonos.
Beaches
There are so many stunning beaches in Mykonos, it's difficult deciding which to recommend. On the Southern part of the island there are organized beaches with sandy golden bays offering; beachside accommodation, upmarket facilities and chic beach bars. In contrast, the Northern coast offers more unfrequented beaches that provide a more calm and intimate atmosphere. Here are Live the Greek Life's top five. (This was a difficult one!)
Paradise beach: Paradise beach is one of the most famous bays on Mykonos island and like it's name suggests; it really is paradise. Flat sandy beaches and azure crystal waters give a laid-back vibe to the beach by day, but by night, Paradise beach comes alive with its crazy beach parties and exciting events. Stylish beach bars that line the seafront serve exotic cocktails from dusk till dawn and famous DJs from all over the globe make this one of the most sought-after destinations for party-goers.
Super Paradise Beach: Super Paradise beach is right next to Paradise beach and is reachable by taxi-boat. This beach is less organized than its neighboring beach, however it still boasts; parties galore, famed DJs, soft blonde sands and crystal clear waters. It's classy bohemian beach club and restaurant 'Jacky O' offers; a welcoming service, fabulous drag shows and intoxicating cocktails, making this beach a hotspot for the LGBT community. This beach is so popular in peak season that people actually reserve sunbeds months in advance!
Psarou: This beach is where the jet setters and the celebrities holiday and it's no wonder why! Boasting sandy white beaches, crystal clear waters and award-winning beachside restaurants, all engulfed within an ambience of pure luxury, this is "fine-sunbathing" at its best! The sunbeds themselves are fancy (and expensive!); with their thick cushions, puffy pillows and inclusive beachside service. In addition, wild parties are held daily and popular 5* restaurants offer magnificent food and drink throughout the day and night. Regardless of its high prices and long waiting lists, tourists still frequent this beach due to its perfect conditions for water sports such as, jet skiing, scuba diving and swimming.
Lia: This lovely bay is perfect for some calm time away from the hustle and bustle of Mykonos's more popular beaches. It's white sandy beach and blue waters are picture perfect and the rocks and vegetation that engulf the bay make a great spot for rock jumping and snorkeling. Easy to reach and
with two fantastic little tavernas in the area, this idyllic beach possesses a wonderful, freeing environment.
Agios Sostis: One of Live the Greek Life's favourite beaches due to its privacy and unspoiled location is Agios Sostis beach. This stunning beach is an oasis of tranquility. It's lush green landscapes against its soft sandy beaches and blue waters create a tropical ambience and with no restaurants, bars or any kind of amenties within the area, this is the perfect place to dive into a good book or take a long nap.
Sightseeing
Although Mykonos is known as the party island, there are many charming sights to see and a rich history to uncover. Whitewashed churches, castles, archaelogical sites, quaint villages and fascinating museums are just some of the places to visit on the island. Once again, it was a hard to pick the top five, but here they are:
Little Venice: This romantic little town is one of the most photographed neighbourhoods in the whole of Europe. Delightful houses that sit precariously on the shoreline add pops of colour to Mykonos's otherwise sugar-white backdrop and chic clubs, expensive restaurants, bars, art galleries and boutiques fill the area. This town manages to create the perfect combination of an endearing vibe with a touch of deluxe. This adorable town is a great spot to watch the sun go down whilst sipping your favourite beverage.
The windmills: Another famous scene of the island is Mykonos's rustic windmills. Mainly concentrated in the capital of Chora, but also found throughout the island, these windmills were used for crushing agricultural yields. This famous site is a reminder of the islands rich heritage and a great photo opportunity.
Panagia Paraportiani: This fascinating church, Panagia Paraportiani is one of the most photographed churches IN THE WORLD. It was given its name meaning, 'Our Lady of the Side Gate' as its entrance was found in the side gate of the entrance to the Kastro area. The church's construction began in 1425 but was not completed until the 17th century. What makes this church so special is that it is actually five churches built in one. The church of Agios Efstathios is the center of this complex, surrounded by the churches of: Agios Anargyros, Agios Sozon, and Agia Anastasia and on top of these four churches there is the church of the Virgin Mary, which looks like a dome. The five churches were not constructed at once, but gradually along centuries. This is an intriguing site to visit.
Delos Island & Delos Archaelogical Museum: The rocky inslet of Delos is found southwest of Mykonos Island and can be reached by boat. This UNESCO protected site is an important Pan- Hellenic sanctuary of the Ancient Times and has a substantial history. Mythology says that it was the birth place of Apollo and his twin sister Artemis.
The archaelogical museum of Delos was built in 1904 and later enlarged in 1931 and again in 1972. It presents rare historical statues and artifacts unearthed from the archaeological site of Delos. Notable attractions include: pottery dating back to prehistoric times, the ivory plaque of a Mycenaean soldier, the trunk of a Kouros, the bronze mask of Dionysos and the marble statues of Apollo, Kleopatra and Dioscorides. This fascinating museum is a definite must see and can be found on the island of Delos, reachable by boat.
PETER THE PELICAN: This whimsical attraction is that of Petros (Peter) the Pelican, the official mascot of Mykonos island since 1954. Legend has it that more than 40 years back, a Mykonian fisherman stumbled upon a wounded pelican. So touched by it's pain and discomfort, he decided to nurse it back to health. Once the pelican had regained his strength, the fisherman decided to set him free, but to his surprise he did not fly off and instead made his home on Mykonos island. With each day that passed, the adorable creature became the cynosure of the island's inhabitants making him a permanent celebrity of the island. The original Petros passed away after spending a long thirty years on this enchanting island and the loss was deeply mourned by the people of Mykonos. So much so, that without any hesitation, they introduced a replacement and the tradition has since then been honored. This attraction may be hard to find as Petros wanders around on his own accord, although the local's tip is to check out the harbor by Alefkandra, one of Petros's favourite hangout areas.
Local cuisine

Mykonos posses some of the hottest eateries in Greece; 5* restaurants, striking cafes, lively bars and wild clubs are what bring thousands of tourists to the island each year. The majority of the island's restaurants and night hangouts are located in Mykonos town, however wherever you dine in Mykonos promises to offer magnificent dishes and unforgettable dining experiences.
Known for its cosmopolitan vibe, Mykonos offers a wide variety of different types of restaurants with a variety of cuisines; traditional Greek, Italian, Asian, Indian and BBQ just to mention a few. For families, we suggest heading to Ornos or Platis Gialos where more casual restaurants at affordable prices can be found. For couples and honeymooners looking for a more romantic setting, we recommend Agios Ioannis or Psarou, where it's alfresco restaurants provide glorious sunset views and deliver an overall elegant dining experience. For the young and lively traveller, Mykonos town is the beating heart of the island and offers swanky restaurants and trendy bars.
One restaurant that must be mentioned is Nammos. This tropical restaurant with its boho chic design, is a feast for all the senses. Guests can enjoy the sand between their toes as they dine, due to the restaurant's elegant yet rustic seating arrangements that are situated directly upon the sands of Psarou beach! Nammos presents an exotic dining experience that oozes class, attracting celebrities from across the world. Avant-garde gastronomical delights, exquisite drinks and an electrifying atmosphere- this restaurant ticks all the boxes!
Events and clubbing
Like most islands, Mykonos celebrates many religious feasts and festivals throughout the island. However, due to Mykonos being recognised as 'The Ibiza of Greece' (arguably the main reason for most of the island's visitors), Live the Greek Life thought we should concerntrate on the island's party scene.
Bronzed bodies, pounding bass and some of the wildest, most extravagant parties are what make Mykonos's clubbing scene the best in the Cyclades. Beach clubs offering seafront parties in striking natural backdrops present both local and international DJs all night, every night. More glamorous establishments have amplified the clubbing experience and offer; huge dance floors, podiums, grand stages and some clubs even possess enormous swimming pools!
We could talk forever about how electrifying the party scene is in Mykonos, but it will never do the real experience justice! Here are the superclubs of Mykonos island that you will just have to experience yourself:
Cavo Paradiso (Paradise Beach): Club. Extravagant. Luxurious. Upmarket. Open-air. Popular. DJ. Super Paradise (Super Paradise beach): Beach party. Bohemian. Popular. DJ
Paradise club (Paradise Beach): Club. Luxurious. Expensive. Open-air. Popular. DJ.
VOID (Lakka): Disco. Designed. VIP. Stylish. Upmarket. DJ.
Toyroom | Mykonos (Little Venice, Mykonos town): Club. Arty. Designed. Small. Luxurious living room.
Heavenly beaches, remarkable restaurants, charming landmarks and a fierce party scene are just some of the wonders to enjoy whilst in Mykonos.
A trip to this irresistible island is unforgettable!