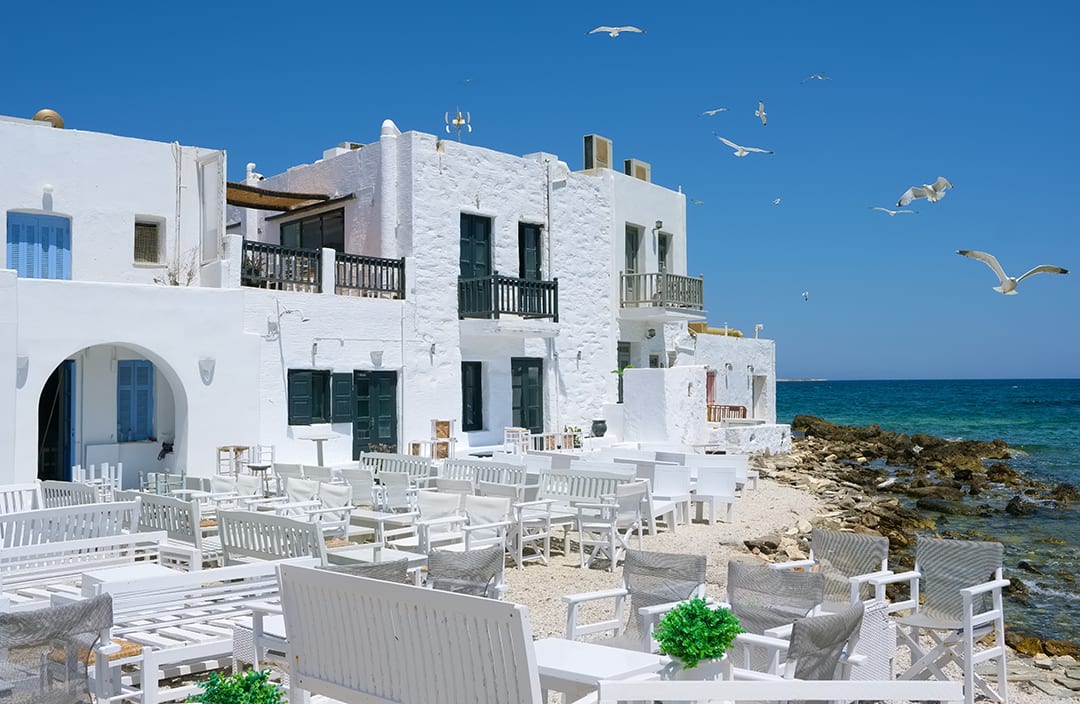 All you need to know about Paros island!
Sitting harmoniously in the waters of the Aegean Sea lies the picturesque island of Paros. One of the most popular Greek islands due to its endless sandy-blonde beaches, enchanting cliff top villages and vivid nightlife; this island is a slice of heaven for everyone.
Easily accessible, Paros is just a short ferry ride from Athens and in addition, it closely sits in range of other popular Cyclades islands such as; Mykonos, Naxos and Santorini, making it the perfect base for island hopping!
Welcome to Paros!
Beaches
Famous for its 120km coastline, Paros boasts some of the best beaches in the whole of Greece. There are idyllic organized beaches dotted with sun loungers and umbrellas, aswell as secluded beaches offering an oasis of tropical landscapes with exotic snorkeling opportunities. Below are Live the Greek Life's top five.
Kolymbithres: Located in the bay of Naoussa, Kolymbithres is probably the most famous beach on the island. It's granite rocks, that have been sculpted by the wind and sea into unusual formations, create lagoon like swimming areas filled with sun kissed water; hence its name meaning "swimming pools". Its unique features and mystical scenery make it a tourist attraction all year long.
New Golden beach: Named after its beautiful golden sands, New Golden beach can be found close to the charming village of Logaras. It is known throughout the Mediterranean as a water sport hotspot and attracts tourists from across the globe to experience its magnificent swimming site. The casual beach bars possess sun decks offering snacks and drinks throughout the day, adding to the laid-back vibe of this beach.
Paros Limnes beach: Limnes is a long sandy beach on the Northern side of the island. It is a very secluded beach with soft sand and crystal waters. Surrounded by lush green vegetation and a calm atmosphere, this beach has dreamy vibe to it.
Punda beach: Probably one of the most crowded beaches in the whole of Paros, this tourist hotspot offers a complex of: swimming pools, restaurants, bars, shops, bungee jumping, beach facilities, loud music and endless parties! The atmosphere is always buzzing with energy and is a great location if you're looking for a lively day out.
Agali beach: This large secluded beach is one of Live the Greek Life's favourites due to its authenticity. With its strong winds, it is usually unfrequented and provides a great escape from the more crowded beaches. The waters here are fantastic for swimming and catching a glimpse of the local kitesurfers in action, whilst the long sandy bay is a great place for playing beach games like 'Raketes' and sharing a frappé with the locals.
Sightseeing
For the 'history hungry' visitors , there is plenty to explore on the island: Archaelogical sites, museums, the typically elegant Greek monasteries and much more. Paros possesses the perfect combination of classical and contemporary qualities which add to its unique vibe.
Panagia Ekatontapiliani: This magnificent church can be found a few meters from Paros's lively capital, Parikia. The name Ekatontapiliani means the 'Church with the Hundred Doors'. According to tradition, the church has 99 doors and a secret door will open when the church of Hagia Sofia in Constantinople becomes Orthodox once again. This striking church is a complex of Paleochristian, Byzantine and post-Byzantine elements and has been kept in pristine condition. With its bright, airy design and magical history, this phenomenal landmark is a definite must see!
Paros Park: This 800 acre park is the perfect example of the wild Cycladic landscape and boasts: walking trails, hidden coves, caves, wildlife and sandy beaches. In addition to it's rich green scenery, visitors can catch a concert in the outdoor amphitheater, or enjoy the salty sea breeze whilst watching a film in the open air movie theater. This environmental and cultural park is possibly one of the most picturesque locations on the island and offers some stunning photo opportunities.
Paros Archaelogical museum: This museum hosts findings that were excavated in Paros and Antiparos and include important exhibits such as the marble statue of the Memaid Gorgo and the statue of Nike. The museum gives an interesting look into both the Classical and Roman periods and presents some truly beautiful sculptures.
Venetian fort and castle -Naoussa: In the lovey town of Naoussa stands grandly a 14th century fortress once used as a watch tower to protect the port from pirate or enemy attacks. A short visit is all that is needed to fully explore this landmark, but with its impressive history and remarkable viewing points, this is another wondrous site to witness.
Museum of Cycladic Folklore: The charming story of this museum's origin alone deserves a visit; built only from the Cycladic land, an ordinary fisherman and his wife created these accurate miniatures without any drafting or scientific instruments. Miniature warships, fishing boats, houses and monasteries, are fully functional replicates that together create a little Greek fairyland. Each visitor can admire the hand made miniatures of the Cycladic tradition in a beautiful garden filled with olive tree and woodpines, bringing a smile to anyone that visits.
Local cuisine

Home to Paros's buzzing nightlife are the two main villages, Naoussa and Parikia. These striking villages hold the majority of the island's traditional tavernas, swanky restaurants, luxurious bars, and quaint cafes.
The old port of Naoussa is an idyllic town with a traditional yet elegant ambience. The narrow streets that surround the lively port are lined tight with a sea of white and blue restaurant tables offering; fresh seafood, traditional Greek dishes and lucious Greek wines. Naoussa is a dazzling place to enjoy a moonlit dinner with a cool sea breeze.
Parikia, the capital of Paros, has a very vibrant yet cosy vibe giving you a real feel for local island life. Colourful restaurants and cafes fill the cobbled streets and the hum of a traditional Greek band can usually be heard throughout the town. Lit up at night with strung fairy lights and candles on taverna tables, this is the best spot to enjoy a hearty gyros pita and an ice cold beer amongst the locals.
Events and festivals
There are many religious festivals and cultural events that take place on the island of Paros, especially throughout the months of August and September. However, amongst the many, the most exciting is probably the Pirates Festival. Every year on the 23rd of August, the Barbarossa Pirate festival is celebrated in the old town of Naoussa. The festival is a representation of a typical pirate raid and in particular celebrates the victory of the locals over the Turkish Pirate, Barbarossa; where the festival originally took its name. Fireworks, music, traditional dancing, street food and drink flow till the early hours of the morning, in this great example of the vivacious Greek culture.
As well as its breathtaking landscapes and serene beaches, there are numerous things to keep you entertained whilst on the island. So make your next holiday a trip to Paros, to fully experience the vibrant energy of this island and meet the friendly locals who are ready to show you the true meaning of hospitality!