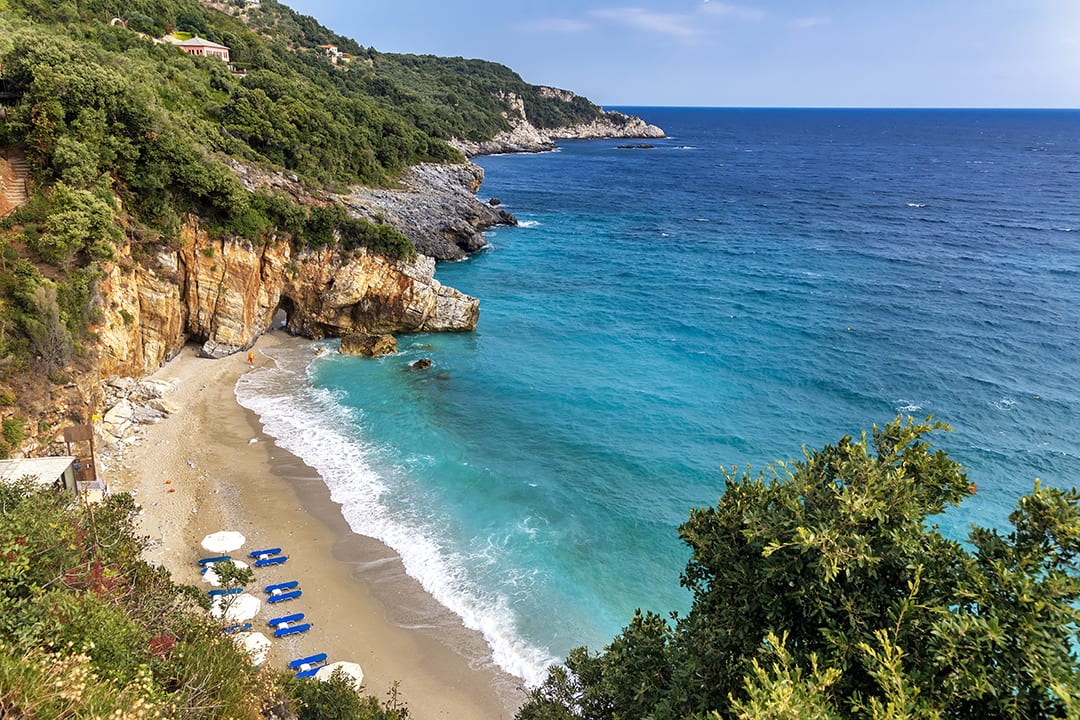 All you need to know about Pelion!
Pelion is a mountainous peninsula sitting in Thessaly, in the central part of Greece. It is renowned for its pretty stone villages, exotic beaches and mouthwatering cuisine. Things to see and do within Pelion are plenty and thanks to its diverse natural landscape, it is a wonderful destination for both summer and winter holidays!
Welcome to Pelion!
Beaches
Pelion is fringed by the Aegean sea and therefore its beaches posses some of the clearest waters throughout the mainland. Almost every beach consists of soft white sands and sits on a scene of unique natural beauty. Below are our top picks.
Mylopotamos: This white pebbled beach is located 52km north east of Volos and offers exotic, turquoise waters. Its rugged terrain makes this a very unique beach, with huge rocks that divide the beach into sections and tall pine trees towering over the bay. The beach has a very secluded atmosphere due to the engulfing cliff faces and therefore offers tranquility to every visitor. The beach provides tourist facilities such as sun loungers and parasols, and also houses some lovely tavernas and a beach bar.
Agios Ioannis: The golden sanded beach of Agios Ioannis can be found 53km east of Volos. It, like the other beaches of the area, possesses stunning crystalline waters. Being a roadside beach adds a very charming, local quality to the bay and ensures practicality with the beach being lined with wonderful local shops and traditional tavernas.
Fakistra: The wild and natural gem that is Fakistra beach is the perfect place for swimming and snorkeling. Its rugged terrain of large rock formations and a rough seabed is what makes this a unique bathing spot. The bay offers soft golden sands surrounded by tall cliffs and dense vegetation, that only add to the beach's tropical vibe. This beach is so attractive that it was the filming location of some scenes from the movie 'Mamma Mia'. Fakistra is a definite must visit!
Papa Nero: 51km north east of Volos is the broad, long bay of Papa Nero. This golden sanded bay offers azure waters and a relaxing ambiance. Tourist facilities are available such as parasols and sun loungers, as well as some great eateries in close proximity to the beach. Its deep waters make this the perfect place for swimming and therefore the beach can get rather crowded in summer.
Horefto: The longest beach in Pelion is Pelion Horefto, measuring 2km in length. The long bay has soft white sands fringed with crystal clear waters. The beach is partly organised with sunbeds and parasols, and its lush scenery only adds to the tropical vibe of this beach. This is a very calming place to relax.
Mourtia: On the south eastern side of Pelion is Mouritia, a lovely beach with fine golden sands. This beach possesses the best conditions for snorkeling with its crystal clear waters and pebbled sea bed. Large rock formations dot its waters and rich green vegetation frames the bay. There are no tourist facilities which only adds to this beach's untouched charm.
Potistika: The broad golden bay of Potistika can be found 50km south east of Volos, where it sits upon a landscape of mountainous terrain, decorated with lush foliage. This gorgeous beach has soft blonde sands offering plenty of space for beach games and deep blue waters, perfect for swimming. This beach has a fantastic chilled out vibe!
Sightseeing
Moutzourisk Steam Train: The Moutzourisk Steam Train (aka 'Smudgy'), started working in the 19th century and played a key role in the development of Pelion and the overall region of Thessaly. Construction began in 1894 under the instruction of designer and engineer Evaristo de Chirico. A year later, it started to operate connections between Volos town, the capital of the region and Lehonia village. Now it is mostly used as a tourist attraction, travelling at 25km/h so that each passenger can take in the natural beauty of Pelion.
The Museum of Folklore: Above the central square of Makrinista (one of the most popular villages in central Pelion) stands The Museum of Folk Art, housed in an elegant mansion. The museum hosts over 1,500 items including; costumes, old photographs, rare manuscripts, artwork and items of daily use. The mansion resembles a fortress with its grand architecture and wooden shutters, and provides the most stunning views of the port of Volos and the surrounding mountainsides of Pelion.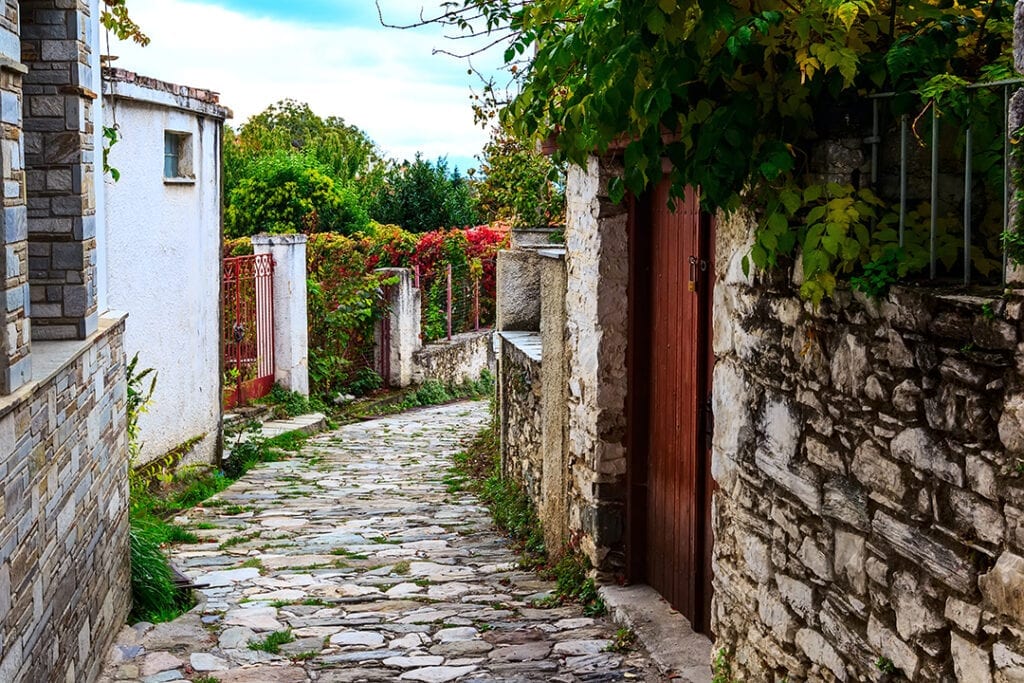 The Komboloi Museum (The Worry Bead Museum): This lovely museum is located in the village of Portania and houses a wide variety of prayer/worry beads. This colourful museum is a must visit!
Churches of Pelion to visit:
The Church of Taxiarches: This church was founded in the 17th century and boasts biblical frescoes.
The Church of Agia Marina: This small stone church was constructed in the 17th century.
The Church of Panagia: Established in 1767, this traditional church is dedicated to the Assumption of the Virgin. The church has an interesting architecture with a tall bell tower.
Monastery of Agios Lavrentias: This Byzantine monastery was established in 1378 on the ruins of an older monastery. This grand monastery played an important role in the Greek War of Independence.
As well as Pelion's attractions, hiking and skiing are also popular pass times for both locals and visitors alike. Located in Chania at an altitude of 1,530 meters is the Ski Centre of Agriolefkes, where each winter hundreds of Greeks and tourists come to ski and snowboard down Chania's fluffy white slopes.
If you are a keen hiker, then paths like 'Centaurs Path' will invigorate all of your senses, where charming wooden bridges, streams, springs and dense vegetation are found in abundance. Walks through the region's villages are also a spectacular experience, with their traditional architecture and unique charm. Below is a list of villages we suggest visiting.
Makrinitsa Tsagarada Millies Vizitsa Portaria Zagora Kissos Afissos Chorto Mouresi Neochori Pouri
Ano Volos Agia Kyriaki Trikeri Argalast Milina Pinakates Chania Lafkos Keramidi
Local cuisine
Due to Pelion's lush mountainsides and crystal clear waters, local ingredients are fresh, wholesome and plentiful. Local hands then turn these ingredients into delightful dishes, that together create the rich gastronomical scene that lies within the region. Below are a list of local specialties you just HAVE to try!
Spetzofai– country sausages with peppers in a rich tomato sauce Tyropsomo– cheese bread
Falotyri– fresh creamy cheese
Tsitsiravla– wild pistachio pickled with Turpentine/vinegar Trachanasoupa– fermented cracked wheat soup
Boubari– oven roasted sausages with potatoes Fasolada– white bean soup
Agria chorta me avga -sauted wild greens with eggs
Other local products to try are: – traditional sweets and jams
– natural herbs, spices and teas – honey
– Fyriki (The most famous apple cultivated in Greece, from the area of Zagora.)
Events and festivals
The vibrant region of Pelion has a large amount of religious and cultural festivals that are celebrated each year. Each event consists of traditional music and dance, and in typical Greek fashion, a large feast of food and plenty of alcohol. The cultural festivals predominantly focus on highlighting the region's local products and folklore traditions, making each celebration a festivity of authenticity and warm spirit.
Religious festivals:
April 23rd: The Feast of Agios Georgios
July 17th: The Feast of Agia Marina
August 15th: The Dormition of the Virgin Mary August 29th: The Feast of Agios Ioannis Prodromos
Cultural events:
May 1st: The Day of Flowers
June: The Tsipouro Festival (A demonstration of how Tsipouro is made and free Tsipouro is served to each visitor.)
Third week of June: The Cherry Festival First week of July: Lehonitika Festival
July: The Sausage Festival (A demonstration of sausage making takes place and delicious local sausages are served to visitors.)
Late July: The Fishermans Festival (The revival of old fishing customs are presented and local Kakavia- fish soup, is served to visitors.)
Summer: The Argonafitika Festival (To honor Jason and the Argonauts.)
First week of August: The Pear Festival
Last week of August: The Revival of a Traditional Wedding
First week of September: The Apple Festival (Celebrating the local cultivation of the renowned Fyriki apple.)
The vivacious region of Pelion has something to offer to each of it's visitors; mesmerizing beaches, majestic sights, breathtaking scenery and a delicious cuisine. It is truly an array of wonder, so make your next trip, a trip to Pelion to gain an insight into its honest and colourful soul!