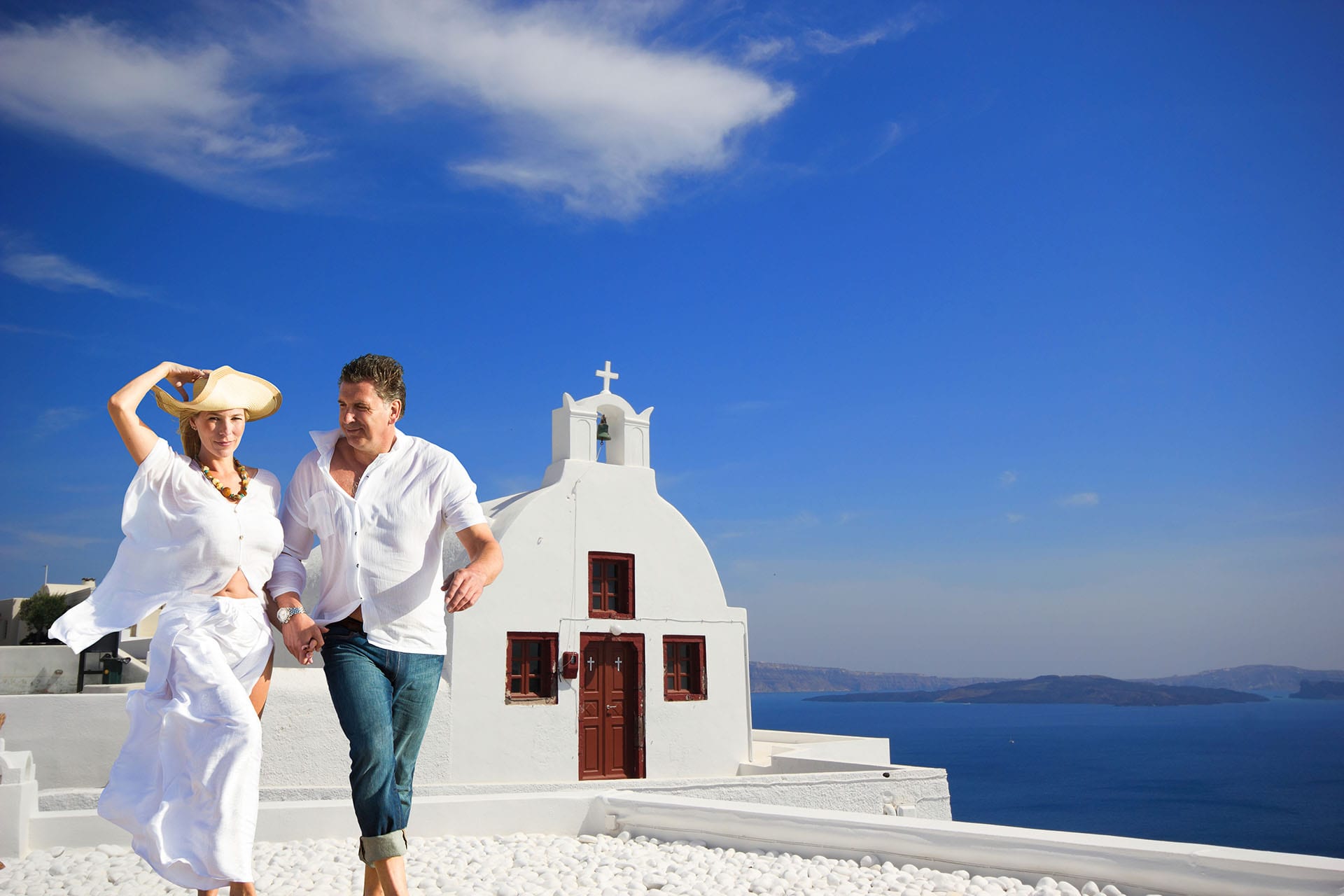 All you need to know about Santorini island!
Proudly settled in the Aegean Sea lies the very famous island, Santorini. It's recognised worldwide by its sea of white and blue sugar cube houses and its breathtaking sunsets. Formed by a colossal volcano in 1646 BC, this rugged island is now a 'bucket list' destination and receives over two million tourists yearly.
Possessing lava hardened pebbled beaches, cliff sides that glisten a rainbow of colours and pretty villages that cling at dizzying heights, it's no wonder that Santorini is the most visited Greek island.
Beaches
Santorini has some of the most unique beach landscapes in the world; with its otherworldly cliffs, teal oceans and black sand beaches. Below are Live the Greek Life's top five.
Red beach: Famed by its rich red cliff faces and volcanic sand, this beach is arguably Santorini's most beautiful. It's fantastic for snorkeling because of its underwater labyrinths and rich marine life. Some warn that this beach is not the saftest to reach nor enjoy, however many visit this beach just for the phenomenal photo opportunities.
Vlychada: One of Live the Greek Life's favourites is the relaxing beach of Vlychada. It's huge white rocks that engulf the bay create a mystical atmosphere, leading one to almost believe they're sunbathing on the moon. It is a very long beach and so never feels over crowded; adding to its overall laidback vibe. The beach is organized with umbrellas and sun loungers and next to the beach you can find a fisherman's port where succulent, fresh fish can be enjoyed.
Ammoudi: Below the famous village of Oia you'll find Ammoudi Bay. More of a fisherman's bay than a beach, this little cove pops colour. You won't find sunbeds or sand here and the only entrance to the water is by cliff jumping (it's a hotspot for the young and adventurous). However, Ammoudi is a great location for a seafront lunch and the perfect spot to admire the dramatic views!
Perissa/Perivolos: Perissa beach is actually an extension of Perivolos beach and are both known for their long black sand beaches and ample amount of relaxing sun loungers. The beaches have a relaxing atmosphere and are perfect for families due to its crystal clear waters and commercial amenities. Restaurants and beach bars dot the area and house world famous DJ's and other exciting events. This beach is a hotspot for volleyball games and one of the top locations to find amazingly tasty cocktails.
Eros: This is the most romantic beach on the Island, hence its name 'Eros', meaning love. It is frequented mostly by couples and is even a popular wedding location. It's a bit difficult to reach, although that's what makes its so secluded. This dreamy beach is also home to the best beach bar on the island, Theros Wave Bar, that boasts spectacular sea views, high quality bar food and an overall easy-going vibe. Definitely pay a visit!
Sightseeing
Around 3,600 years ago a volcanic eruption, probably the largest ever witnessed by mankind, took place on Santorini island. The equivalent of 40 atomic bombs blew out the interior of the island leaving behind a massive crater or 'caldera'. The remains of this catastrophic event now provides some of the most phenomenal landscapes found throughout Greece.
Firá: Perched 300 meters above the caldera is the picturesque village of Firá, Santorini's capital. It's famed by its whitewashed houses, winding lanes, blue domed churches and views of the caldera. It is the largest cosmopolitan village on the island and posses chic hotels, fancy restaurants, pretty cafes and souvenir shops galore! You can reach this breathtaking location from the port by walking the 587 step scenic path, with a donkey ride or via cable car.
Oia: A labyrinth of beauty is that of Oia. This mystical place posses cave houses dug into the volcanic rock, infinity pools and twisting coves filled with an abundance of glorious eateries. Oia caters to the more upmarket clientele, with its alfresco fine dining experiences that provide the best viewing point for Santorini's famous sunsets. Around every corner, nook and kranny of this village, there is a unique photo opportunity waiting for you.
Museum of Prehistoric Thira: This well presented museum possesses some extraordinary finds. Excavated from the prehistoric town of Akrotiri, visitors can browse through a wealth of wall paintings, ceramics, the golden ibex figurine and Live the Greek Life's favourite exhibit, fossilized olive tree leaves, dating back to 60,000 BC that were excavated directly from within the caldera. We recommend visiting this museum before heading on to discover the prehistoric site of Akrotiri.
Akrotiri Archaelogical site: The Minoan settlement of Akrotiri was buried below lava following the island's eruption in 16th century BC. Visitors can walk upon pathways through the debris and explore the remains of a once thriving town. This magnificent site has an eerie undertone due to its heavy history although it is a definite must see!
Ancient Thira: Ruins of Hellenistic temples and foundations of Roman and early Byzantine buildings can be found in the site of Ancient Thira. A theater, religious sites, a gym for military training and administrive buildings dating back to 9th century BC, are just some of the intriguing landmarks to explore.
Local cuisine

This vibrant island is full of seafront tavernas, alfresco cafes, elegant bars and sensational little street food stands. It's almost guaranteed that you'll find a fantastic eatery to enjoy no matter where you are on the island!
If you are looking for a traditional taverna with authentic food and the typical warm hearted service of the Greeks, Perivolos and Akrotiri are your best choices. Family run souvlakias serve mouth watering kalamaki, gyros and village sausage at cheap prices and more upmarket tavernas offer exotic ambience, phenomenal seafront views and succulent seafood dishes.
The capital of Santorini, Fira, probably holds the most selection of restaurants and bars on the island and offers unbeatable outside dining experiences. This area can be a little pricey due to its remarkable views of the caldera but if you head in the opposite direction, more reasonably priced
restaurants can be found. Fira has a lively vibe and it is very common to witness dancing and entertainment whilst dining. Also head to Fira if you are looking for a stylish clubbing experience!
The dreamy town of Oia has a romantic air to it. Plush restaurants and lavish wine bars offer sunset views and delicious food, perfect for intimate nights out with your partner. In contrast, villages like Perissa and Kamari give a more easygoing vibe, with their quaint cobbelled streets and traditional tavernas that supply hearty Greek dishes.
Events and festivals

There is an old saying "Santorini has more churches than houses and more wine than water." The island is indeed rich in tradition and faith, with hundreds of religious feasts being celebrated throughout the year. Each village has their own patron saint, adding to the amount and versatility of Santorini's celebrations.
One festival stands out amongst the many though and that is the Ifestia. The Ifestia Festival, meaning the Greek Volcano festival, is organized every August and involves a representation of the island's volcanic eruption. Fireworks, music and a feast of food flow all night long and a series of interesting concerts and dance performances can be seen throughout the island. This festival really captures the island's spirited soul!
Don't forget your camera, the astonishing landscapes of this island are never ending! There is a reason why Santorini island is now a 'bucket list' destination; history, culture and impressive views are only the beginning! Book your trip to Santorini and be prepared for some unforgettable experiences.