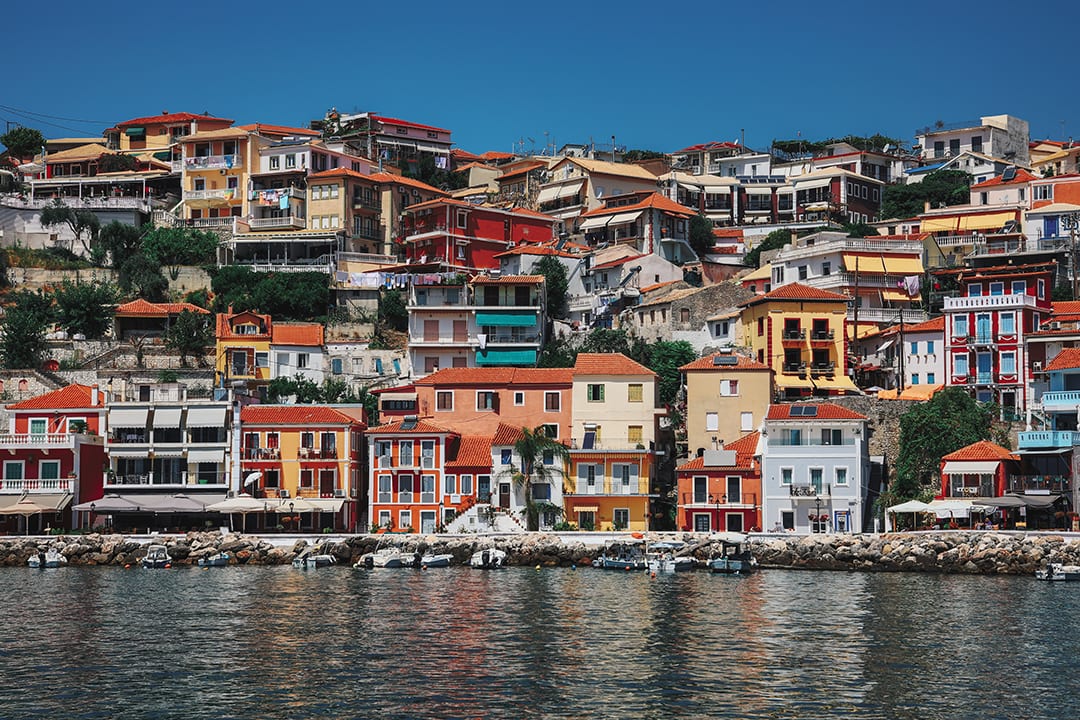 All you need to know about Parga, Epirus!
One of the most popular destinations in the region of Epirus is the vibrant Parga and to describe it as picturesque is quite an understatement! It may be a mainland town, but with it's colourful architecture and exotic beaches, this town oozes an island ambience. Parga's landscapes are lush, rich in colour and offer a number of exciting things to do; there are historical landmarks to visit, invigorating hiking routes to follow, tropical bays to enjoy, as well as excursions to the surrounding areas.
Welcome to Parga…
Sightseeing
The turbulent history of Parga is reflected in its assortment of noteworthy landmarks. In addition to these historical marvels, Parga also boasts one of the most charming town centres in the whole of Greece, fascinating museums and spellbinding springs.
Venetian Castle: Stood magnificently atop a hill overlooking Parga town, is a well preserved Venetian castle. This castle was built by the residents of Parga in the 11th century to protect against the Turks and pirates. Over time it has been rebuilt and reinforced; in the 13th century when the Venetians wanted to fortify the area and in 1452 when Parga was occupied by the Turks and part of the castle was destroyed. In the 16th century it was once again rebuilt by the turks who turned it into a strong fortress by building eight surrounding towers and two cisterns to supply the castle with water incase the area became under attack. In 1813 it was further developed by the Turks where they added an extra building called 'Hammam', which was home to the harem of Sultan. In additional to its historical background, the castle also boats a peaceful surrounding area and breathtaking views of Parga town and its shoreline. The castle also holds a small cafeteria inside serving snacks and drinks.
Castle of Anthoussa: The impressive structure of the Castle of Anthoussa is located upon a hill between Parga town and Agia, it is preserved in good condition and dominates the surrounding area. It was constructed in the early 19th century by the Turkish Governor of Ioannion, Ali Pasha, to overlook the town and served as a base of operations when the town residents were resisting the Ottoman attacks. There is a lovely hiking path that starts at the castle and leads onto the famously stunning beach of Valtos. The hiking route consist of pretty vegetation, old watermills and spectacular views.
Acheron River (The Springs of Acheron): The river of Acheron flows from the mountains of Souli Epirus and eventually meets the Ionian Sea by Ammoudia beach. Myth says that this is one of the five rivers of Greece's underworld and leads to the gates of Hades. This whole area is rich in flora and fauna and creates a serene, tropical atmosphere. The waterfalls, lakes, water pits and streams here are crystal clear and boast a bright turquoise glow. They are also home to amphibians, fish and colourful birds of prey. This lush ecosystem is recognised and protected by the Natura 2000 Network and is a must see!
The Church of Panagia: The church of Panagia rests on the islet of the same name found in the bay of Parga.
Olive Oil Factory: This private museum opened its doors in June 2012 and shows the process of olive oil making using traditional tools and machinery.
Ecclesiastical museum: Located next to the Church of Agioi Apostoli is the ecclesiastical museum of Parga and hosts many valuable items such as; holy gospels, rare books and the 300 year old town banner.
Monastery of Panagia Vlachema: In close proximity to the famed beach of Valtos stands the grand Monastery of Panagia Vlachema that presents beautiful frescos as well as an impressive 15 meter high bell tower dating back to the 18th century.
Beaches
There are numerous beaches in Parga varying from popular resorts to secluded coves. The one quality that each of Parga's beaches do share, is that they each possess deep, clean, crystalline waters, each complemented by a lush background of greenery. The majority of the beaches are organised and offer an array of tourist amenities such as sun loungers, parasols and water-sporting activities.
V altos: This popular resort has been nominated as one of the best beaches in Greece with it's 3km stretch of sand with small pebbles, and it's crystal clear waters. Valtos boasts a large array of tourists amenities such as sun loungers with parasols, water- sporting activities, accommodation options, tavernas and cafes, all situated in front of a spectacular assemble of rich green hills. The beach is located 2km from Parga town and can be reached by car, bicycle, boat or on foot (20 minute walk from town).
Town beach: Just a short walk from the town you will find the town beach; a short strip of sand offering spectacular views of the nearby islet 'Virgin Mary'. There are plenty of tourist facilities surrounding the beach such as accommodation possibilities, lovely cafes, traditional tavernas and water-sports. Despite it's close proximity to the main town, the beach's waters are clean and deep creating the perfect conditions for snorkelling and swimming. This beach can get rather crowded in summer due to it's popular location.
Lichnos: 4km south of Parga is one of the most beautiful beaches within the Epirus region, Lichnos. The bay consists of blonde sands and has deep blue waters encircled by large, lush mountains. The beach offers a wide variety of water sporting activities such as: diving, scuba diving, jet skiing, snorkelling, fishing and even pedalo rentals (It is worth renting a pedalo to visit the Cave of Aphrodite that is located a few meters from the shore. Legend has it the Goddess of love and beauty used to bath there). In addition to it's water-sports centre, this lovely bay also offers a selection of great cafes and tavernas, accommodation possibilities, a mini-market and even a camp site. This resort is a surefire for families as it has absolutely everything you could possibly need!
Sarakiniko: This peaceful bay is found 12km west of Parga town and consists of a sand with pebbled shore and bright turquoise waters. Like Parga's other beaches, Sarakiniko too has a lush, mountainous landscape with olive trees that seem to drape over the shore. Fishing is a popular activity here as well as the rental of canoes and pedalos. Tavernas and accommodation are within close proximity to the beach and provide spectacular seafront views.
Krioneri: This is the main beach of Parga and is located just a few meters from the town centre which can lead to overcrowding in the summer season. Colourful houses and restaurants line the beach, along with idyllic shops selling local products. Despite it's close proximity to the town centre, the water at Krioneri is crystal clear and provides the perfect conditions for you to swim to the tiny islet of 'Virgin Mary' that lies just a few meters from the shoreline.
Piso Krioneri: Within walking distance from Parga town is the less popular beach of Piso Krioneri. This little beach hides behind the hill, St Athanasios and is well protected from any strong winds. It is well organised with some convenient tourist amenities. It's rugged landscape of large boulders create smaller coves to enjoy and its rough seabed offers keen snorkelers a wonderful experience.
Agios Sostis: 1km from Sarakiniko beach is one of the few more secluded beaches, Agios Sostis, which offers no tourist amenities but instead, the perfect ambience for total relaxation. The beach offers golden sand with pebbles and bright teal waters.
Agios Ioannis: Agios Ioannis or as the locals refer to it, 'Ai Giannakis' is an exotic stretch of white sand encircled by rocky mountains. Its bright turquoise waters are wonderful for swimming, but be careful when entering the water as the seabed is rather rough and can be uncomfortable to walk on. The beach has no facilities and is a good option for total tranquility.
Local cuisine
The Epirus region consists mostly of lush mountainous terrain and long coasts of clean blue sea, it is these two qualities combined together with Greece's wonderful climate that have helped to create the delicious produce and local specialities of the region. The main ingredients of the local cuisine are dairy products such as sheep and goat milk, yoghurt, butter and cheese. Cheeses we recommend trying include:
Metsovone, a semi hard and smoked cheese made from pasteurised cows milk or a mix of 80% cow milk and 20% sheep/goat milk. Anthotyro, a crumbly cheese of strong herbal aromas made from goat and sheep milk. It is similar to Feta.
Galotyri, a curd cheese made from goat and/or sheep milk and yoghurt. It is a bit softer than Feta but similar in taste.
The Epirotic cuisine is also famous for its pies, especially for their variety of fillings. The most common of these pies, Blatsara, is made with wild greens (found in abundance on the region's mountainsides), where instead of the usual phyllo pastry, the filling is encased in a thick batter made of corn flour, soured milk and olive oil.
The region's waters also produce some tasty treats such as frog legs, smoked trout and eels. Additionally, a surefire to satisfy is grilled squid or fried octopus!
As for dessert, Greece's syrupy, phyllo pastries such as Baklava are always a popular choice, however we also suggest trying the Epirotic spoon sweets. Spoon sweets are one of the most unique and versatile Greek confections and refers to a vast range of seasonal fruits placed in jars of simple sugar syrup so that each fruit is perfectly preserved and its flavour intensified. Chestnut, unrip fig, blackberry and prune are some fantastic varieties to taste!
Noteable festivals and events
During the summer season, Parga hosts some of the biggest and best music events throughout the Epirotic region. The concerts take place in Parga's most breathtaking landscapes, bringing tourists from all of the world to experience both their favourite music and the region's beauty. Other notable celebrations include:
14th August: Kanaria Festival. In 1817, the residents of Parga migrated to Corfu in order to save themselves from Turkish rule, however, when the Greek War of Independence finally ended, the Pargiotes returned to their birthplace. This is commemorated every year at the Kanaria festival where a feast of traditional food and music take place.
15th August: The Assumption of the Virgin Mary. A big festival of live music, local food, traditional dancing and fireworks take place in the town centre.