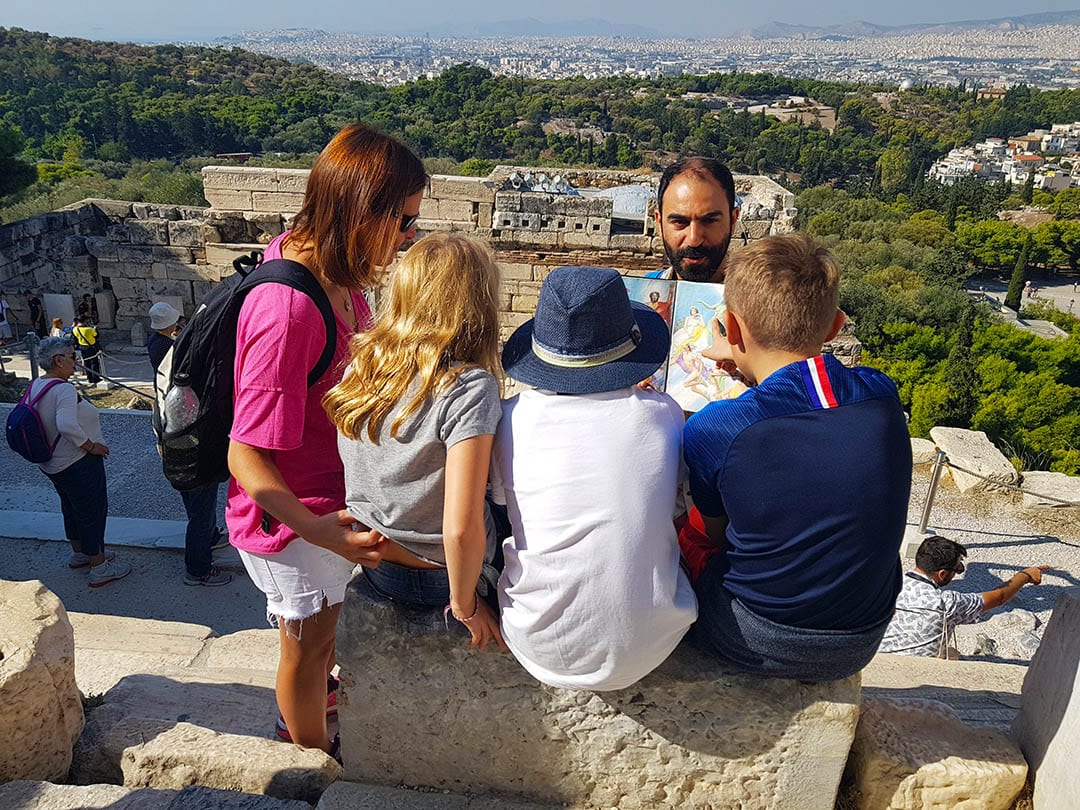 10 things to do in Athens for kids and families
Athens, a mystical ancient city boasting art, culture, myths, philosophy and history. It has so many magical stories to tell and holds so many iconic landmarks and attractions that it can be difficult to choose where to start and what to see. Therefore 'Live The Greek Life' has picked out their top 30 things to see and do in and out of Athens (in no particular order). We think you'll enjoy crossing off as many as you can during your stay! Pamé! 
1. Acropolis and museum 
One wouldn't be able to visit Athens and not venture up to the iconic Acropolis. Spectacular views of the whole of Athens combined with magical stories of Ancient Greece is the perfect way to kick off your visit to Athens. After exploring the stunning sites of the Acropolis, dive further into the history and culture of the Ancient Greek civilizations by taking a wander around the beautifully designed Acropolis museum . The newly constructed museum holds over 4000 artifacts aging back to the Greek Bronze Age and to Roman and Byzantine Greece. The precision and simplicity of the museum's design makes for an intriguing walk- through. 
For Acropolis and Acropolis museum tours click here
2. Take a food tasting tour of Athens
If you are not sure where to eat out, or just want to know more about Greece's gastronomical heritage, an Athens food tasting tour is for you! Follow a local around the historical city centre and taste a large variety of Greek traditional dishes and recieve information on their history and produce. Enjoy classics like Greek yoghurt, olives and cheeses, Bougatza, Loukamadas (Greek doughnuts), Greek spirits such as Raki and Mezze (Greece's version of tapas). A great experience for families, groups and couples alike! Book an Athens food tour with Athens food on foot
3. Anafiotika and Plaka 
Anafiotika is a scenic, tiny neighborhood that sits in the shadow of the Acropolis. Known for its islandic beauty, charming little houses and winding cobbled pathways, you will forget you are in the center of a capital city and be transported to an oasis of tranquility. Stroll through the hillside village of Plaka and enjoy tiny little shops selling jewelry, clothes and local ceramics aswell as quaint cafes and family-run tavernas. It's a very pretty place to enjoy a stroll and a coffee. 
4.Athens cooking class 
Want to dive deeper into the gastronomic culture of Greece? Then why not get your hands messy and take part in a Greek cooking lesson? Learn how to cook traditional Greek dishes from local chefs aswell as learn more about the local products. Great for groups! Book here
5. National Gardens and The Zappeion 
Take a break from the huste and bustle of the city and walk through the serene National Gardens of Athens. With 24 hectares of beautiful trees, flowers and wildlife, a little cafe and The Zappeeion (Generally used for meetings and ceremonies, both official and private) it is definitely worth a visit. The garden is home to a whopping 7,000 trees and 40,000 plants, creating a total mass of over 500 different species, making it a truly special landmark that shouldn't be missed, especially on a sunny Athenian day! The garden is accessible from seven different entrances and is free of charge for all visitors! 
6. Visit Voulagmeni Lake 
Dip into the magnificent thermal lake of Voulagmeni, a natural lake with curative properties and home to some very rare sea creatures, making it great for snorkeling. Lounge by the water in beach chairs with umbrellas and enjoy the cafe and restaurant there that offers excellent food and hosts various events. In summer it offers hot-spring baths aswell as hydrotherapy and physiotherapy and in addition there is a playground for children to enjoy making this the perfect place to relax for all ages! 
7.Variety of city walking tours 
There are a huge selection of touring companies and different ways to discover Athens; walking tours, bike tours, bus tours, local tours. Each is avaliable in a wide variety of different languages and offer different seasonal schedules. You can customize your own tours to suit your wishes and experience the places you want to see! Do your research well online and you are guaranteed to find the perfect tour for you! Happy traveling! 
8.Visit Monastiraki and walk Ermou 
Another iconic area of Athens is Monastiraki. Filled with history and a jumble of shops selling soaps, handmade sandals and souvenirs, it is a vibrant place to spend some hours. The surrounding side streets are crammed with traditional tavernas and restaurants and Ermou Street (Athens's main shopping district) is right around the corner. Grab a traditional Koulouri (a crunchy sesame seed covered bread ring) and get shopping! 
9.Panathinaiko Marble Stadium 
The Panathinaiko or Kallimarmaro is a multi-purpose stadium and the only stadium in the world built entirely of marble. It was used as the Olympic Stadium in ancient times and is the location of the Marathon finish line that takes place each second Sunday of November. With a lengthy history and fantastic photo opportunities, jump on one of those 'hop-on-hop-off' buses and go check it out. 
10.Day trip to Mikrolimano, Pireaus 
Take a visit to the picturesque harbour of Mikrolimano where a wide selection of restaurants, tavernas and cafes sit on the waterfront. Taste the local seafood accompanied by wine or ouzo as you watch the Athenian sunset and the coming and going of yachts.