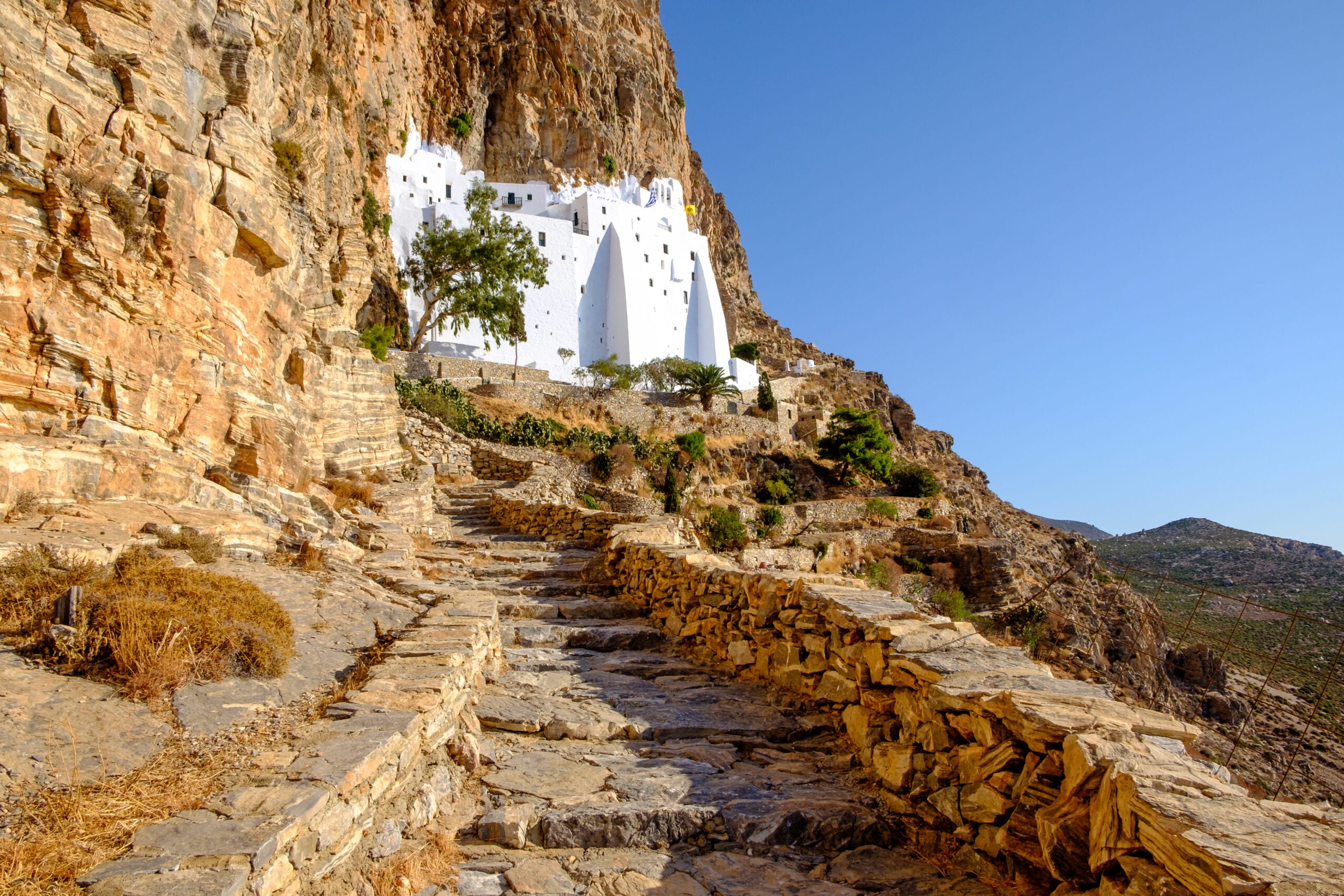 All you need to know about Amorgos island!
Untouched by mass tourism, Amorgos is the perfect island for those who seek tranquility. It is one of the most beautiful Greek islands with its astonishing landscapes, mysterious landmarks, and unspoiled beaches.

Welcome to Amorgos!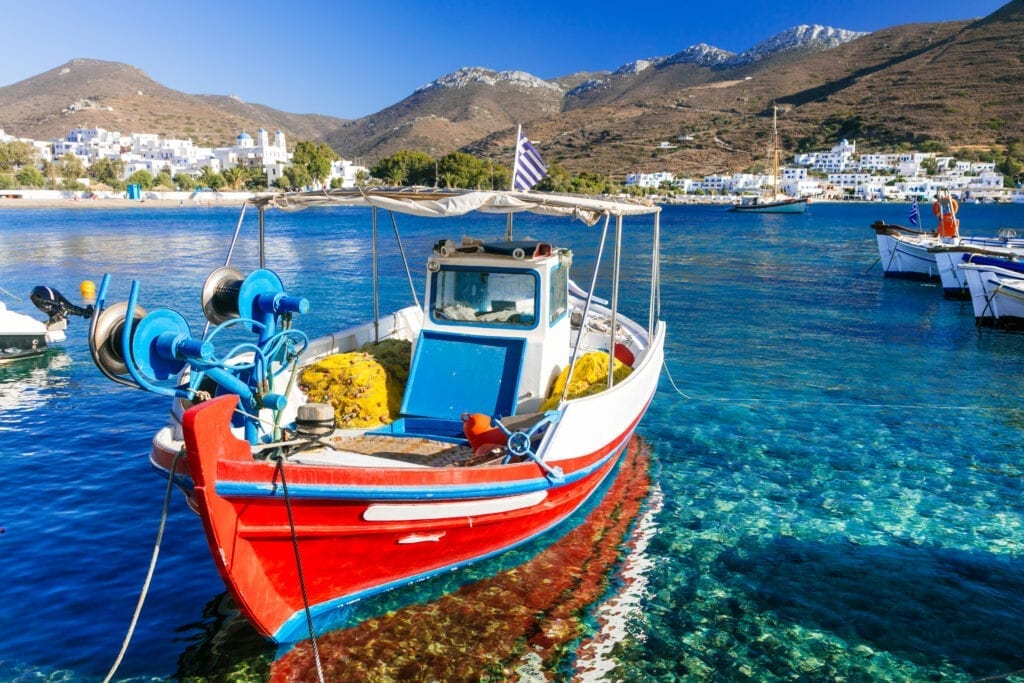 Beaches
Each one of Amorgos's beaches boasts wild beauty and tranquility. Below are our top picks.
Mouros: One of the top beaches on the island is Mouros. Found 15km southeast of Chora, this beach has gained popularity with its deep turquoise waters and under water caves. The beach consists of a small pebbled beach with spectacular rock formations spread throughout its entirety. Although the beach lacks in tourist facilities, there is however a beachside taverna offering cold drinks and snacks throughout the day. This gorgeous bay is reachable by car, followed by a 10-minute walk on an assigned pathway. Mouros is a great beach to visit if you are a keen swimmer since the water becomes deep relatively fast, and for those that love snorkeling, the sea caves of Mouros await you.
Agios Pavlos: The rather unique beach of Agios Pavlos is found on the North side of the island, 8km from Aegialis. Its sand/shingle bay juts out into placid waters offering a great fishing spot. The beach is reachable by car and possesses a wonderful beachside restaurant. This calm spot doesn't get very crowded so it's a great place to relax and absorb Amorgos's rocky scenery.
Aegiali: 20 km from Chora, the beach of Aegiali stretches across 1km making it one of the longest beaches on the island. It boasts soft sands and tall pine trees providing shade for its visitors. The beach is lined with many shops and restaurants.
Levressos: Easily accessible, Levressos beach can be found 1km from the cove of Aegiali. Its sandy beach and crystalline waters are surrounded by impressive, rugged scenery. This beach is a favorite for nudists due to its sheltered qualities and calm, shallow waters. Tourist facilities can be found close by in the town of Aegialis.
Katapola: Located in the middle of the island is the very popular beach of Katapola. This beach is famed for its harbor; one of the finest and most natural throughout both the Cycladic and Aegeanic regions. The long sandy beach stretches through the settlements of Katapola, Rahidi and Xilokeratidi and is lined by a small selection of hotels, shops and tavernas.
Sightseeing
Kept off the radar of mass tourism, Amorgos has remained an undeveloped island and therefore does not offer much sightseeing. The island instead offers stunning beaches, mountaintop villages, lush hiking paths and sensational diving experiences. The few landmarks it does possess are listed below.
Panagia Hozoviotissa: This astounding monastery was built into a cliffside in the 11th century by Alex Comnenus. The structure, that is literally submerged into the cliff face, was created as an ode to the Grace of Panagia, also known as the Virgin Mary and saint protector of the island. Once you reach the monastery you will be greeted by monks offering glasses of honey and loukoumi, and with the reminder that visitors must be appropriately dressed (complete coverage of the body; long sleeves and trousers/skirts). The pristine walls of the monastery boast portraits of monks and historical leaders, as well as breathtaking views of the Aegean sea. A must see.
Venetian castle: The ruins of a Venetian castle, built by Leremias Gizis in 1290, lie in the quaint settlement of Chora. There is not much to see, however the site offers a fantastic viewing point of the island. A visit to the castle entails a tricky walk up a 210ft tall rock, however the majestic views make it worth the effort.
Ship Wreck Olympia: This commercial ship was swept onto the island's rocky shore when strong winds hit the island in February of 1980. The shipwreck can be found in the movie 'Le Grand Bleu' by Luc Besson and many other travel documentaries.
Ancient Minoan Settlement: The ruins of the Minoan Settlement were found upon Moundoulia Hill in Katapola. The findings suggest that there was once a thriving civilization from 10th century BC to 4th century AD. The site consists of a large building dedicated to gymnastic like activities, as well as a geometric sanctuary, a Hellenistic temple and the body of a statue erected in the middle of the site.
Gavras Tower – Archaeological museum of Amorgos: The restored Gavras Tower houses the Archaeological museum of Amorgos and displays; prehistorical tools, marble sculptures, weaponry and the remains of ancient temples.
In addition, the island also possesses some beautiful traditional churches; Agia Anna, Agios Georgios Valsamitis and the Monastery of Theologos.
Local cuisine
Since Amorgos is an undeveloped island, it is very easy to find authentic tavernas throughout the island. Each taverna is sure to offer warm-hearted hospitality, as well as the island's specialty dishes made with fresh, local ingredients. Be sure to try the local dishes of the island including:
Omelet with Kavourmas: Kavourmas is a type of preserved meat, usually made of pork and seasoned with oregano, bay leaf, and allspice.
Xerotigana: "dry fries" is a traditional sweet dish made of light pastry ribbons fried in oil and then drizzled with honey and sprinkled with sesame seeds or chopped almonds.
Patatato: A combination of meat and potatoes (traditionally lamb or beef, but rooster and veal are also used) in a rich red sauce containing; tomato, garlic, onion, olive oil and red wine. This dish is characterized by its intense aroma of spices including; cinnamon, all spice, cloves and pepper.
Since the island is famous for its pristine harbor, we also recommend trying the local seafood such as; oysters, mussels and squid, they are amazingly fresh and perfectly sweet!
Notable events and festivals
Like most Greek islands, the religious feasts and local festivals of Amorgos are deeply rooted in the island's culture. Each festivity is celebrated with traditional music and dancing, and ALWAYS a feast of traditional food and local wine/raki. The biggest celebrations on the island are:
Easter- Between March/April
Feast day of Agioi Anargyroi- 1st July
Feast day of Agia Paraskevi- 26th July
The Transfiguration of Christ- 6th August
The anniversary of the Virgin Mary Hozoviotissa Monastery- 21st November
Panagia Panochoriani- August 15th
However, the liveliest of celebrations is probably the Psimeni Raki festival where live music and local raki flow all night long. It usually takes place late July or early August.