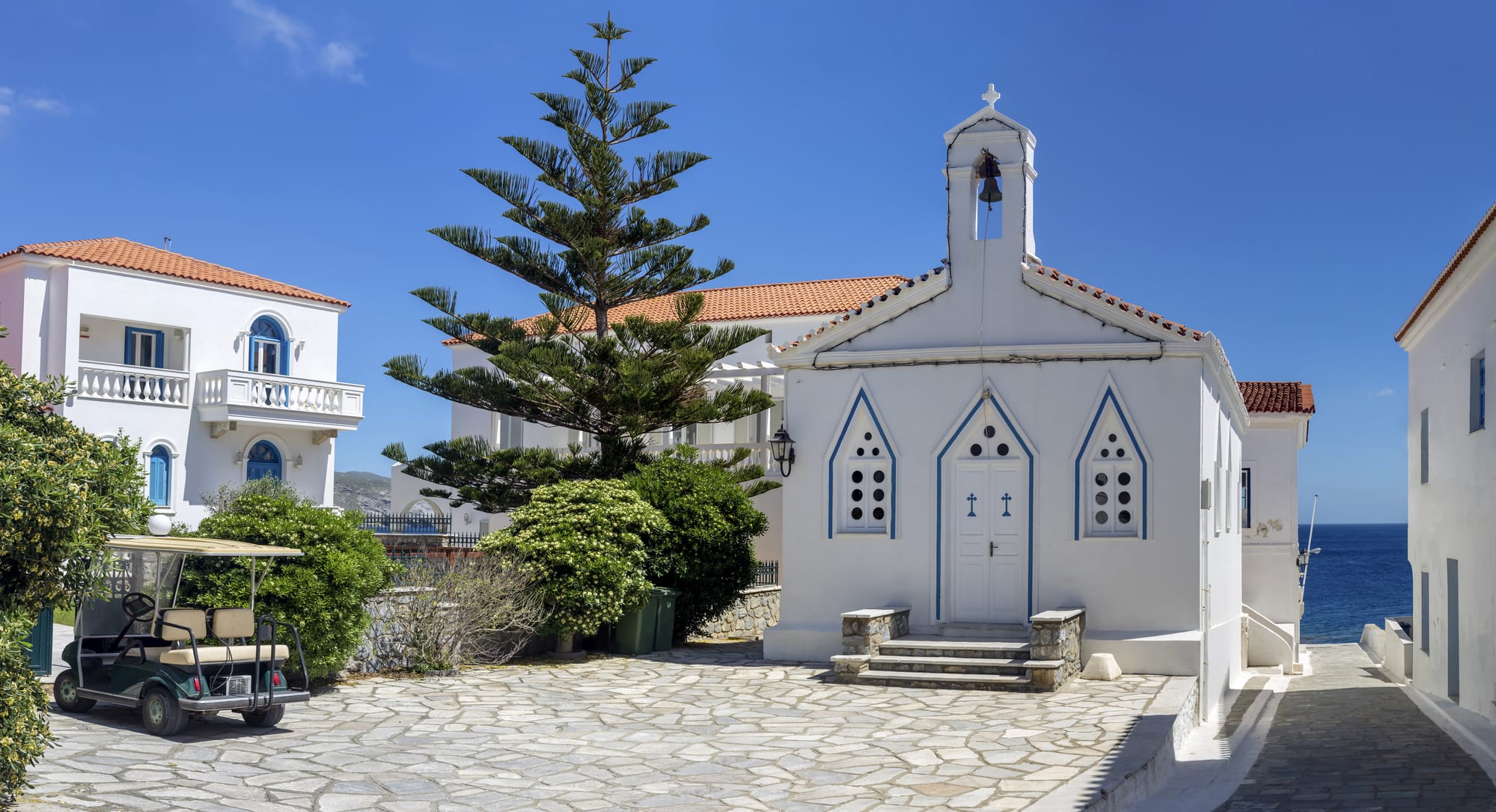 All you need to know about Andros island!
Just a short ferry ride from Athens you will find the enigmatic island of Andros. This island is the northernmost of the Cyclades and is prominent for its rich vegetation and its abundance of rare wildlife. Striking waterfalls, creeks, and springs create a fairyland of wonders, whilst its exotic-looking beaches and cosmopolitan vibe add a tropical quality to the island. Andros is also known for its unique mix of Venetian, Byzantine, and Ottoman architectural designs, which together form a harmonious blend of neoclassical and contemporary style. Charming villages, imposing mountains, and historical mysteries only add to this island's enchanting character. Welcome to Andros!
Beaches
Some of the islands unique beaches could be mistaken for scenes from the Bahamas. Turquoise oceans, soft sandy bays and unspoiled landscapes make for some of the most breathtaking beaches in the Cyclades. Andros's beaches are all stunning in their own way, but here are our personal favourites.
Tis Grias Pidima: Arguably the most popular beach on the island, this sandy cove is found on the southeast coast of the island, 23km from the island's capital. It is a non organized beach with soft white sands and crystal clear waters that shape its unspoiled charm. This picturesque beach is the most photographed bay on the island with its imposing cliff sides that engulf the bay and one 21 meter rock tower that emerges from the sea.
Zorkos: This secluded beach boasts rich golden sands and deep clear waters. It is often affected by the northern winds and is therefore mostly unoccupied other than ambitious swimmers. Although windy, this beach offers a very calm and peaceful ambience. It can be found 40km from Chora and is a fantastic spot for fishing and deep sea swimming.
Achla: This well protected cove is Live the Greek Life's favourite spot on the island. It is a mermaid's paradise with sands made of tiny shiny pebbles and a greenish blue ocean. Its surroundings are of a sea of lush green plane trees and nested upon the cliffs above the bay is the little chapel of Agios Nikolaus and a lighthouse. This magical beach is a bit tricky to access due to its track roads, however it's worth the visit if you can hire a Jeep or motorbike. A truely stunning beach.
Agios Petros: The dreamy seaside village of Agios Petros is home to one of the biggest tourist attractions on the island, Agios Petros beach. This heavenly beach with its long sandy body offers space and privacy even in high season. It's shallow waters are calm and warm making this a hotspot for families and the lazy tourist. Surrounding the bay is more of Andros's rich green foliage, patches of rough mountainous terrain and the tower of Agios Petros. The enchanting village of Agios Petros and it's beach deserves a full day visit.
Pyrgos: Pyrgos beach took its name (meaning tower) from the Venetian Tower of Makrotantalos that now lies in ruins on the rocky backdrop of this cove. This pebbled beach has an exotic ambience with its rugged scenery, dark cyan waters and secluded atmosphere. A fantastic spot for snorkeling!
Sightseeing
Scenic villages, monasteries, chapels, ancient sites, waterfalls, castles, museums and towers…the list could go on! There are so many fascinating landmarks and attractions to enjoy on the vibrant island of Andros that it was difficult picking out our top five, but here they are.
Chora (Andros Town): The scenic village of Chora holds many landmarks and museums to enjoy and with its remarkable architecture, the town itself deserved to be listed! The idyllic village of Chora is unlike any other capital city of the Cyclades. Pastel colored houses with colourful pops of foliage are so pristine, that the cobbled alleyways almost seem like backdrops of a movie scene. Impressive marble mansions and elegant churches add a polished touch to this unique town and its wealth of history is clearly evident in its architecture. Chora houses; the Museum of Modern Art, the Nautical Museum and the Archaelogical Museum of Andros. They're all worth a visit however, the Museum of Modern Art is a must see! It is one of the most important museums of Andros due to its large collection of renowned Greek artists including those of Bouzianis and Galanis. Also within the region of Chora are the magnificent churches of Panagia Thalassini and Theoskepasti. Panagia Thalassini is a small chapel of typical Greek style found on the old habour of Chora and Panagia Theoskepasti, known as the protector of the island, holds the symbol of the Virgin Mary. Both have a fascinating history to tell. In the square of 'The Unknown Sailor' by the seafront, visitors can walk across a beautiful stone bridge to reach the remains of Chora Castle. Other notable sites in Chora include the neoclassical wonder of Kairios Library and the Tourlitis Lighthouse; considered one of the most stunning lighthouses worldwide!
The waterfalls of Pythara (Andros Town): The Pythara Falls, also known as 'Neraidotopos' (meaning Fairyland) are found in the village of Apiki. Small waterfalls, creeks and ponds are home to a wealth of aquatic life and lush vegetation is where rare plants and birds can be found. This landmark is a refreshing getaway from the hustle and bustle of touristic villages and really lives up to its fairyland reputation.
Aladino Cave: Aladino Cave is one of the top attractions on Andros island. Discovered in 1932, this 4.5-5 million year old cave is divided into five different halls and has the total area of 500m². Its imposing stalactites, stalagmites and colourful limestone helictites create a mystic atmosphere in this magical landmark.
Geometric Settlemen of Zagora: The Geometric Settlement of Zagora is the best preserved city of the Geometric period in the whole of Greece. This ancient settlement, located on a remote mountain plain at 160m, is nested on the Zagora peninsular. Remains found from excavations of the area show that the community probably began in 10th century BC and died/relocated in 8th century BC. Remarkable finds of these excavations can be found in the Archaeological Museum of Andros.
Pitrofos Mill (Andros Olive Museum): This delightful mill is a fine example of a small, animal powered olive oil production plant. It's architectural stonework has been perfectly restored adding to the rustic authenticity of the premises. The museum gives a great insight into the origin and production of olive oil but also presents an unforgettable glimpse into life on a Cycladic island village.
Local cuisine
The bars and restaurants of Andros are quite spread out over the island, however the majority of the island's eateries are found in Chora and other smaller villages like Batsi and Gavrio. In scenic Chora, hearty Greek tavernas offering authentic dishes and a cosy setting can be found. There are also some lovely little cafes and dessert shops in the area that sell local drinks and homemade sweets. If you are looking for more chic restaurants with alfresco dining experiences, head to Batsi where colourful restaurants offer delicious Mediterranean dishes made of fresh local produce. For a more romantic setting and spectacular sea views, there are beachside restaurants that line the seafront of Agios Petros and Vitali beaches. One 'must try' in regards to eating out is to try the local pita (pie) 'Frutalia'. This scrumptious pastry is filled with baked potatoe, loukaniko (local sausage seasoned with orange peel, fennel seed, dried herbs and spices, cooked over aromatic woods) and feta. It is tantalizingly good and gives a great example of the island's traditional flavours.
Events and festivals
As with all the Greek islands, each village is named after a patron saint. Every year, just like a birthday, 'name days' are celebrated for each patron saint with feasts, dancing and music. In addition to these religious celebrations, one festival that stands out is the Ploes Festival. Established in 1994, the Petros and Marika Kydonieos Foundation aim to contribute to the cultural promotion of the island. Taking place in Chora, a series of; concerts, dance performances, art exhibitions and other exciting events bring together locals and tourists to relish in the world of art from July until September. It is a vibrant festival that offers entertainment aswell as a glimpse into the island's culture. This modest island with its rugged yet classy characteristics offers an enchanting experience to each visitor that sets foot upon the island; green slopes await the hiker, dreamy beaches for the laidback tourist and diverse historical features for the curious visitor. Andros is a bewitching island and promises a feast for all the senses!