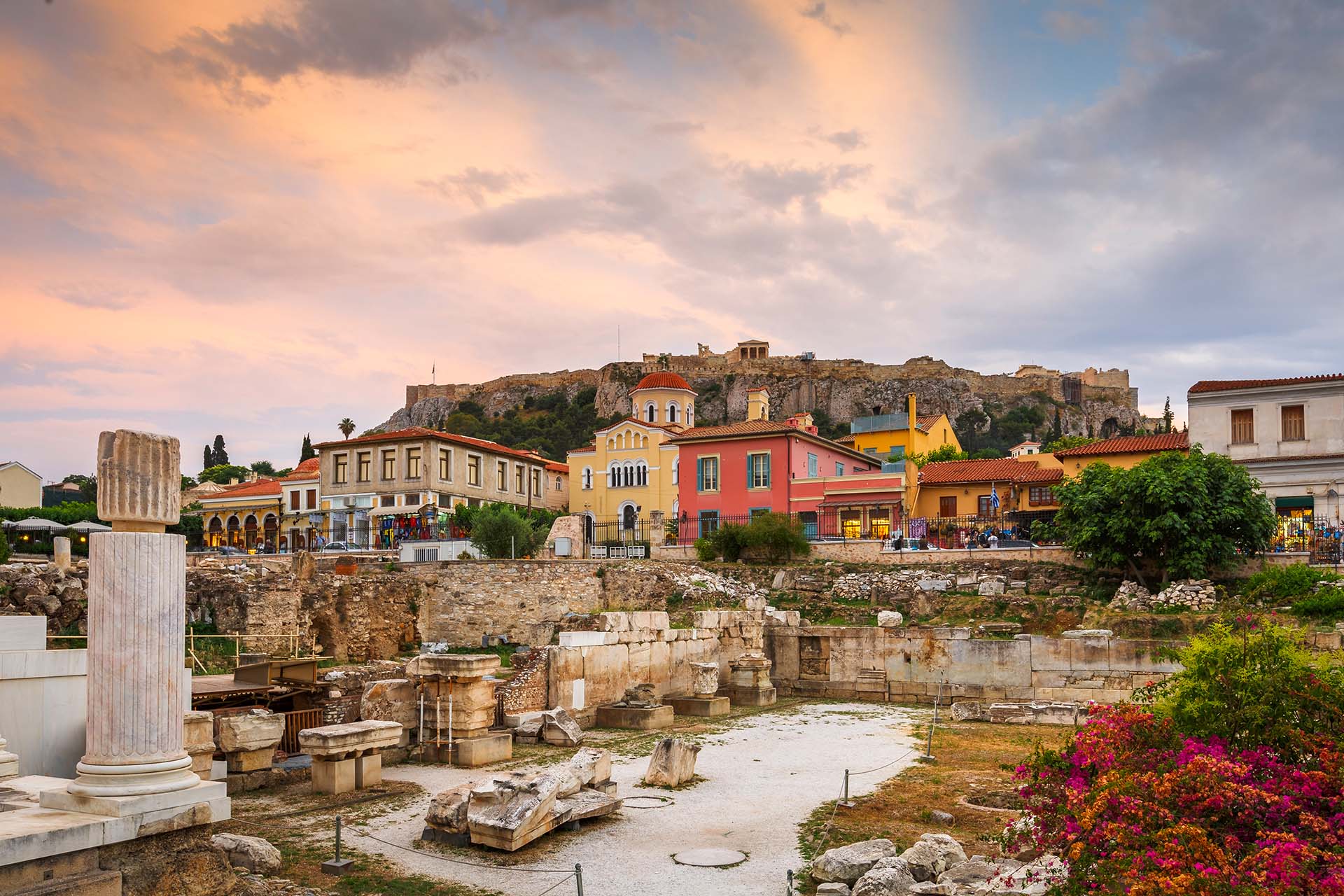 Top 28 things to do and see in Athens
Athens, a mystical ancient city boasting art, culture, myths, philosophy and history. It has so many magical stories to tell and holds so many iconic landmarks and attractions that it can be difficult to choose where to start and what to see. Therefore 'Live The Greek Life' has picked out their top 28 things to see and do in and out of Athens (in no particular order). We think you'll enjoy crossing off as many as you can during your stay! Pamé! 
1. Acropolis and museum 
One wouldn't be able to visit Athens and not venture up to the iconic Acropolis. Spectacular views of the whole of Athens combined with magical stories of Ancient Greece is the perfect way to kick off your visit to Athens. 
After exploring the stunning sites of the Acropolis, dive further into the history and culture of the Ancient Greek civilizations by taking a wander around the beautifully designed Acropolis museum . The newly constructed museum holds over 4000 artifacts aging back to the Greek Bronze Age and to Roman and Byzantine Greece. The precision and simplicity of the museum's design makes for an intriguing walk- through. 
2. Visit Monastiraki and walk Ermou 
Another iconic area of Athens is Monastiraki. Filled with history and a jumble of shops selling soaps, handmade sandals and souvenirs, it is a vibrant place to spend some hours. The surrounding side streets are crammed with traditional tavernas and restaurants and Ermou Street (Athens's main shopping district) is right around the corner. Grab a traditional Koulouri (a crunchy sesame seed covered bread ring) and get shopping! 
3. Take a stroll up Lycabettus Hill 
Mount Lycabettus is a Cretaceous limestone hill in Athens standing at 300 meters above sea level. Enjoy a beautiful brisk walk through giant pine trees appreciating fantastic views along your way. With the 19th century chapel of St George, a theatre and a restaurant at its peak to also enjoy. If walking isn't your thing you can also reach the top by taxi, or better yet by cable car and relish in the Athenian sunset. 
4. Visit the suburb of Kolonaki (and relish in sweet heaven!) 
In the quaint suburb of Kolonaki stands the famous Greek dessert shop 'Sweet Alchemy' by Stelios Parliaros. Mouth watering; Ice creams, chocolates, Greek pastries and candy await you in this chic patisserie. After receiving your sugar intake, enjoy this buzzing hub of trendy bars, boutiques and sleek concept stores. 
5. Thissio 
The central neighborhood of Thissio is almost an extension of Monastiraki; lined with cafes, bars and more nightlife. Nestled between Phillipapou Hill and the Acropolis, you dont have to walk far to find more spectacular city views and on Sundays, the vibrant Flea market that leads straight up through Monastiraki. If you enjoy walking, follow the path all the way down to the district of Keramikos, it's one of the most beautiful walks to experience whilst in Athens. Tip: Grab a local tour guide to discover this area's history, there are many hidden landmarks throughout the Thission area. 
6. Panathinaiko Marble Stadium 
The Panathinaiko or Kallimarmaro is a multi-purpose stadium and the only stadium in the world built entirely of marble. It was used as the Olympic Stadium in ancient times and is the location of the Marathon finish line that takes place each second Sunday of November. With a lengthy history and fantastic photo opportunities, jump on one of those 'hop-on-hop-off' buses and go check it out. 
7. Athens Central Municipal Market and lunch at Diporto 
Walk through Athens's largest food market of; fresh fish, meat, cheeses, olives, vegetables, fruits, herbs and spices and more! After, enjoy lunch in a charming old Taverna, Diporto. With no sign, look out for the two heavy set doors that will lead you down to the rustic cellar. With no menu, enjoy a selection of traditional dishes that have been served for years! A hidden gem of Athens! 
8. National Gardens and The Zappeion 
Take a break from the huste and bustle of the city and walk through the serene National Gardens of Athens. With 24 hectares of beautiful trees, flowers and wildlife, a little cafe and The Zappeeion (Generally used for meetings and ceremonies, both official and private) it is definitely worth a visit. The garden is home to a whopping 7,000 trees and 40,000 plants, creating a total mass of over 500 different species, making it a truly special landmark that shouldn't be missed, especially on a sunny Athenian day! The garden is accessible from seven different entrances and is free of charge for all visitors! 
9. Arch of Hadrian 
Hadrians Arch was erected in 131-132 A.D. in honour of Roman Emperor Hadrian, a benefactor of the city of Athens. It used to be the entrance into the ancient city and it is a truly spectacular sight to witness. In the surrounding area enjoy restaurants of worldly cuisines and more souvenir shopping! 
10. Metropolis Street (Metropolitan Cathedral of Athens and Little Metropolis) 
To experience the architectural wonder of Greek churches, take a walk down Metropolis Street. You will be amazed by the beauty and complex structures of each church and can even discover the interior of each one. For a small donation of 20 cent you may light a candle for your loved ones or just to feel poetic whilst in this ancient city of wonders. 
11. Panepistimou Street (The Athenian Triology) 
Discover more architectural wonders with a visit to Panepistimou Street. There, stands grandly The Athenian Triology of; the National Library, the University of Athens and the Academy of Athens. Designed in the mid-19th century by the Danish Hansen brothers and completed years later with the help of benefactors and donors, these buildings have seen it all making them Athens's three jewels of neoclassical architecture. Statues of Greek gods shall loom over you, as will the presence of philosophers Socrates and Plato. A definite must see! 
12. Anafiotika and Plaka 
Anafiotika is a scenic, tiny neighborhood that sits in the shadow of the Acropolis. Known for its islandic beauty, charming little houses and winding cobbled pathways, you will forget you are in the center of a capital city and be transported to an oasis of tranquility. Stroll through the hillside village of Plaka and enjoy tiny little shops selling jewelry, clothes and local ceramics aswell as quaint cafes and family-run tavernas. It's a very pretty place to enjoy a stroll and a coffee. 
13. Athens cooking class 
Want to dive deeper into the gastronomic culture of Greece? Then why not get your hands messy and take part in a Greek cooking lesson? Learn how to cook traditional Greek dishes from local chefs aswell as learn more about the local products. Great for groups! 
14. Pies at Ariston 
Tucked behind Syntagma Square since 1910 is Ariston. A pastry/pie shop that sells the biggest and best variety of pies in Athens. The local speciality is the 'kourou' pita, a shiney little half moon pastry with a feta filling. Go there and get one! 
15. Dinner and drinks in Psiri 
Opposite Monastiraki square down those winding streets is the district of Psiri. A vibrant area boasting of street decorations, beautiful light displays, vintage shops and unique restaurants and cafes makes it one of the most atmospheric spots to enjoy dinner. Tip: head to 'Bougatsadiko' for dessert and try their incredible custard filled bougatza pie! 
16. Visit Feyrouz to try Lahmatzoun 
Feyrouz's aim is to present its small gastronomical family history which extends into Antioch, Lebanon, Cyprus and Istanbul. With its cosy interior and family atmosphere it is worth a visit, especially to try its popular Lahmatzoun, a thin, round bread topped with minced meat, vegetables and herbs, but to be honest, their whole menu is delicious! 
17. Eat Souvlaki at Thanassi's or Kosta's 
Both of these restaurants are known for its fantastic souvlaki and friendly service! Kali orexi! 
18. Coffee at Yiasemi, Plaka 
Sitting beautifully on the steps of Plaka is cafe Yiasemi. Surrounded by green umbrellas, covered in winding vines and at night, little fairy lights, it is a magical place to experience. It's outdoor seating makes for a memorable dining experience and it's cheap menu has made it popular with both tourists and locals alike. Check out its Facebook page as sometimes they have live music too! 
19. Take a food tasting tour 
If you are not sure where to eat out, or just want to know more about Greece's gastronomical heritage, a food tasting tour is for you! Follow a local around the historical city centre and taste a large variety of Greek traditional dishes and recieve information on their history and produce. Enjoy classics like Greek yoghurt, olives and cheeses, Bougatza, Loukamadas (Greek doughnuts), Greek spirits such as Raki and Mezze (Greece's version of tapas). A great experience for families, groups and couples alike! 
20. Greek dancing and drinks at Brettos bar 
This historic lounge in the district of Plaka is Athens's oldest distillery. It is remarkably colourful and cosy and offers home made liqueurs, Ouzo, Brandy, Tsiporo, Rakomelo and fantastic cocktails. All in which usually leads to both tourists and locals dancing till the early hours of the morning. 
21. Drinks on a rooftop bar (A for Athens or 360) 
Enjoy your favorite beverage whilst relishing in striking views of the Acropolis and the surrounding city. Both bars offer a fantastic selection of traditional meals, including a large variety of vegetarian, gluten-free and vegan options and the cocktails are just phenomenal. 
22. Bar hopping 
Hop between two fantastic bars (or more!) but we recommend; The Drunk Sinatra and The Clumsies, two very distinctive bars in the centre of Athens. Offering a hip and lively atmosphere, great bar food and exotic cocktails, both these bars have found themselves on the 'top 50 bars in the world' list. With quirky VIP experiences and events, check out their websites for a unique night out! 
23. Experience the nightlife of Keramikos 
If you are a party goer and want to experience Athens's nightlife, Keramikos is the spot for you. Chic and vibrant bars line the central square and down the side streets are some of Athens most popular (and quirky) clubs such as; Shamone (LGBT friendly) and Lohan. Be sure to check out the Technopolis, former power station, now hub for city-sponsored and private events that combine culture with innovation such as; art exhibitions and music festivals, to food and Christmas fairs. Keramikos is an electrifying district where old meets new. 
24. Day trip to Mikrolimano, Pireaus 
Take a visit to the picturesque harbour of Mikrolimano where a wide selection of restaurants, tavernas and cafes sit on the waterfront. Taste the local seafood accompanied by wine or ouzo as you watch the Athenian sunset and the coming and going of yachts. 
25. Ride the tram to Gylfada and walk along the seafront 
Glyfada, on the south coast of Athens is well known for its buzzing atmosphere, lively entertainment, chic Marina and of course the beach. So come here to enjoy sea breeze walks, high end shopping, swanky restaurants and even a quick dip in the sea, weather permitting! 
26. Visit Voulagmeni Lake 
Dip into the magnificent thermal lake of Voulagmeni, a natural lake with curative properties and home to some very rare sea creatures, making it great for snorkeling. Lounge by the water in beach chairs with umbrellas and enjoy the cafe and restaurant there that offers excellent food and hosts various events. In summer it offers hot-spring baths aswell as hydrotherapy and physiotherapy and in addition there is a playground for children to enjoy making this the perfect place to relax for all ages! 
27. Marathonas 
Discover the extensive history of Marathon with a visit to the Archaelogical museum, the Marathon Battlefields, Marathon Lake and Thermopylae's Battlefield. With a variety of exurcions and tours to pick from, history fans will only have trouble choosing which one! With many great multicultural restaurants and popular seafood eateries in the area, this day trip will leave everyone happy. 
28. Variety of city walking tours 
There are a huge selection of touring companies and different ways to discover Athens; walking tours, bike tours, bus tours, local tours. Each is avaliable in a wide variety of different languages and offer different seasonal schedules. You can customize your own tours to suit your wishes and experience the places you want to see! Do your research well online and you are guaranteed to find the perfect tour for you! Happy traveling!