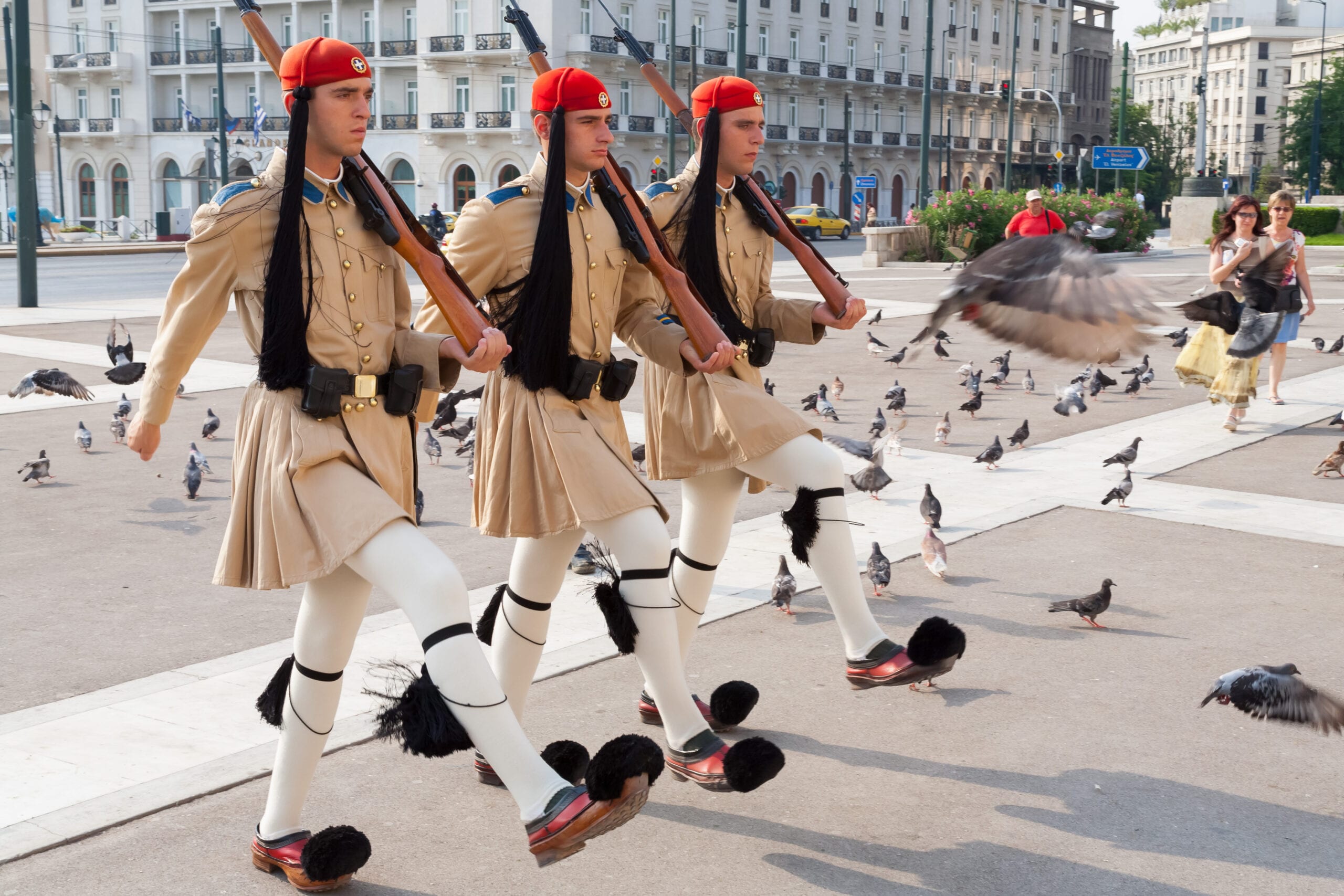 Top 5 things to do for free in Athens
Visit the Guards at Greek Parliament
Members of the Presidential Guard stationed outside the Hellenic Parliament are known as "Evzones." They were founded in 1868 as a Greek army unit and have since become synonymous with the city of Athens. Thus, it is a great honour for a soldier to be chosen for the Evzones. They stand vigil over the grave of the Unknown Soldier, which serves as a memorial to all unknown troops slain in battle, and in front of the Presidential Palace. Every day at the top of the hour, the 'Changing of the Guards' takes place. (Presidential Guards – Why Athens Guide – The Changing of the Guards – Photo: Why Athens The world-famous Evzones wear 2 outfits. One is their traditional costume for national holidays and worn on Sundays, which consists of the traditional fustanella of Nafpaktos. The famous white kilt has 400 pleats to represent the number of years Greece was under Turkish control and are crafted by hand by skilled artisans. Each outfit takes approximately 80 days to complete. However, an ordinary Evzone outfit is worn for the rest of the days throughout the year; light khaki uniforms for the summer and warmer dark blue outfits in the winter months. Both outfits are worn with 'Tsarouchia' leather shoes.
Visit Monastiraki and walk Ermou 
Another iconic area of Athens is Monastiraki. Filled with history and a jumble of shops selling soaps, handmade sandals and souvenirs, it is a vibrant place to spend some hours. The surrounding side streets are crammed with traditional tavernas and restaurants and Ermou Street (Athens's main shopping district) is right around the corner. Grab a traditional Koulouri (a crunchy sesame seed covered bread ring) and get shopping! 
Take a stroll up Lycabettus Hill 
Mount Lycabettus is a Cretaceous limestone hill in Athens standing at 300 meters above sea level. Enjoy a beautiful brisk walk through giant pine trees appreciating fantastic views along your way. With the 19th century chapel of St George, a theatre and a restaurant at its peak to also enjoy. If walking isn't your thing you can also reach the top by taxi, or better yet by cable car and relish in the Athenian sunset. 
Thissio 
The central neighborhood of Thissio is almost an extension of Monastiraki; lined with cafes, bars and more nightlife. Nestled between Phillipapou Hill and the Acropolis, you dont have to walk far to find more spectacular city views and on Sundays, the vibrant Flea market that leads straight up through Monastiraki. If you enjoy walking, follow the path all the way down to the district of Keramikos, it's one of the most beautiful walks to experience whilst in Athens. Tip: Grab a local tour guide to discover this area's history, there are many hidden landmarks throughout the Thission area. 
National Gardens and The Zappeion 
Take a break from the huste and bustle of the city and walk through the serene National Gardens of Athens. With 24 hectares of beautiful trees, flowers and wildlife, a little cafe and The Zappeeion (Generally used for meetings and ceremonies, both official and private) it is definitely worth a visit. The garden is home to a whopping 7,000 trees and 40,000 plants, creating a total mass of over 500 different species, making it a truly special landmark that shouldn't be missed, especially on a sunny Athenian day! The garden is accessible from seven different entrances and is free of charge for all visitors!