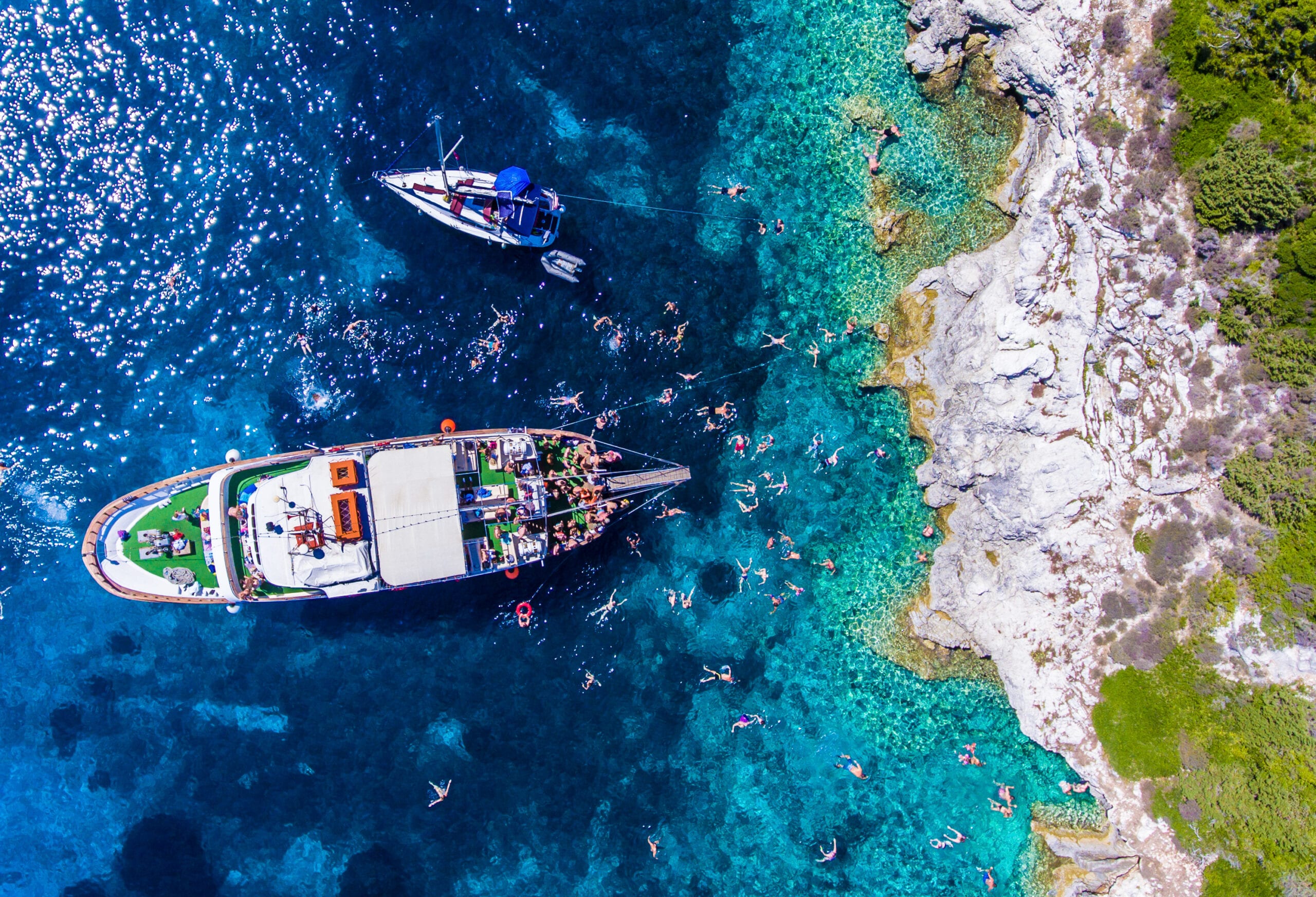 All you need to know about Paxi/Paxoi island!
Paxi is a small group of islands that lie just south of Corfu, with the largest two being Paxos and Antipaxos. The islands are relatively untouched by mass tourism, however they are a popular holiday destination amongst the Greeks. Due to its close proximity to Corfu, Paxi oozes a cosmopolitan glamour, with yachts and speed boats filling the harbour each summer. The island is most renowned for its Caribbean-like beaches with white sands and dazzling turquoise waters. There is not much in the form of sightseeing throughout the island, however the lush scenery provides the perfect setting for hiking. There are three main villages; Gaios, Lakka and Logos, each more charming than the next with their colourful houses and beachfront promenades.
Legend says that Paxi was formed when Poseidon hit Corfu with his trident, causing the southern tip to separate and form this small collection of islands. Poseidon then used Paxi as a haven of seclusion and romance for himself and his beloved Amphytrite.
So if you too are looking for a place of total relaxation, take Poseidon's lead and head to Paxi…
Beaches
Most of the beaches in Paxi are secluded coves with soft white sands and crystal clear waters. They do not offer much in the way of tourist amenities but instead lush greenery and total tranquility. In addition to Paxi's beaches, you can also take a water taxi to the breathtaking beaches of Antipaxos.
Mesovrika- Antipaxos island:This natural, underdeveloped beach is found within a small cove on the northern side of Antipaxos island. Reachable by boat, this shingle beach is found between the more popular beaches of Voutoumi and Vrika. This beach does not possess any facilities except two small taverns located five minutes from the beach, which offer all day refreshments as well as the rental of parasols and sun loungers. Mesovrika beach is not so popular due to its lack of sand, however if you are a keen snorkeler, the rocky terrain of this cove presents fantastic snorkelling conditions. Most visit this beach for its breathtaking panoramic views of Paxi and the mainland.
Voutoumi- Antipaxos island:On the eastern side of Antipaxos island is the dazzling bay of Voutoumi, boasting a sandy/pebbled bay and glittering turquoise waters. This beach receives visitors from the Greek mainland, Corfu and even Italy and is a hotspot for private yachts, water taxis and boat tours. The beach is suitable for families as its waters are rather shallow and with its rugged seabed and surrounding terrain, it offers great conditions for snorkelling. This beach offers no tourist facilities except two tavernas that can be found behind the beach.
Monodendri- Paxi:9km north of the seaside village of Gaios is the stunning beach of Monodendri. Easily reachable via the main road, this white pebbled beach boasts sparkling turquoise waters and dense tropical foliage. This beach is extremely popular in the summer due to its Caribbean-like setting and offers basic facilities such as parasol/sun lounger rentals and a beachside taverna. A must visit!
Pounda- Paxi:Pounda beach is a pretty bay located 5km north of Gaios and consists of a short, narrow beach with a medley of royal blue, emerald green and bright turquoise waters. This beach is easily accessible via car or boat and offers a tranquil ambience with its backdrop of dense vegetation. A must visit!
Logos- Paxi:One of the smallest beaches on the island is Logos beach, situated on the outskirts of the enchanting seaside village of Logos. Logos's beach is very clean and has crystalline waters and a small, pebbled bay. The beach is lined with a promenade housing colourful establishments such as fish tavernas and cosy cafes. Due to its calm, shallow waters and location, this beach can become rather busy in the summer season.
Levrehio- Paxi:The unspoilt beach of Levrehio is just a five minute walk from Lovos and is probably one of the most scenic beaches on the island. Its lush green backdrop is made up of pretty shrubbery and large olive trees providing shade. This beach is very popular with both tourists and locals alike and is therefore extremely crowded throughout the summer season. The swimming experience at this bay is wonderful due to the clear, warm waters and surrounding nature.
Harami- Paxi:The idyllic harbour of Lakkas accommodates two beaches; Harami and Kanoni. Harami beach is a popular swimming destination due to its calm, bright blue waters and abundance of water sporting activities such as; water skiing, pedalos, paddle boards and inflatables. The bay consists of soft sands on a backdrop of olive and cedar trees, perfect for visitors in search for a little shade. It is well organised with parasols and sun beds and houses a taverna serving snacks, pastries and drinks.
Kipiadi- Paxi:Kipiadi is a large coast stretching between the villages of Gaios and Loggos. It offers no facilities and is therefore a great location for complete isolation and calm. The coast is engulfed by rocky hills blanketed in olive, cypress and pine trees and consists of small white pebbles and glowing blue waters. It is a popular location for the mooring of private yachts as well as fishing, diving and snorkelling.
Marmari- Paxi:5km north of Gaios is the untouched beach of Marmari. This beach oozes a tropical ambience with its shiny, white pebbled beach, gleaming teal waters and rich green landscape. There are local accommodation options within close proximity to the beach, such as enchanting cottages perfect for families and couples. This beach is nudism friendly.
Mogonisi- Paxi:Mogonisi is actually a manmade beach, created by the detonation of dynamite that caused nearby cliffs to collapse. This picturesque beach is ideal for families as it is safe, clean and offers an abundance of facilities such as; sun loungers, parasols, toilets, showers and a beachside taverna. The beach also offers many water sporting activities including; kayaking, paddle boards and pedal boats. This relatively small bay is made up of soft sands and green waters engulfed by verdant hills and exudes a peaceful atmosphere. This location is a surefire option for families and elderly visitors.
Plakes- Paxi:The most famous beach on the island is Plakes, located just 500 meters from the island's capital. It is mostly rocks and rugged terrain but boasts deep blue waters creating a fantastic swimming/snorkelling experience. The area is surrounded by verdant hills covered with olive groves and dense vegetation. The beach is reachable on foot or by bus.
Agios Nikolaus- Islet, opposite Gaios harbour:In front of Gaios harbour is the lush green islet of Agios Nikolaos, reachable via water taxi or boat rental. This beautiful islet boasts many wonders such as; an ancient Venetian fortress built in 1423, an old windmill and the charming churches of Agios Ioannis and Agios Nikolaus. The islet is also a spectacular location for unique swimming and hiking experiences and offers breathtaking views of the surrounding region. A must visit!
Sightseeing
Except for it's stunning beaches and scenic landscapes, there is little sightseeing in Paxi. We definitely recommend exploring the island of Antipaxos and the tiny islet of Agios Nikolaus and additionally Paxi's few noteworthy attractions listed below.
Folklore Museum: Established in 1996 by the island's Cultural Association, the Folklore Museum of Paxi can be found at the port of Gaios and is housed in the old British Government House. All the exhibits were donated by the island's residents and include; traditional costumes and clothing, old coins, fossils, agricultural tools, cooking utensils and old furniture. The museum frequently holds interesting exhibitions such as 'Weaponry from the Venetian times' as well as exhibits featuring items from the prehistoric, classical and Roman periods.
Church on Analipsi: Located in the central square of the island's capital, Gaios, stands the charming Church of Analipsi. This salmon coloured church boasts an interesting bell tower and in addition, some enchanting frescoes. Olive Press Museum: The Olive Press Museum is found in the village of Lakka and dates back to 1865. It has been recently renovated and still to this day is fully functional.
Local Cuisine
Dining out is a social event for the Greeks, with the whole experience usually lasting hours and hours; they love to share food with family and friends and the Ioanians are no exception. The Ioanian cuisine is highly influenced by the Italian cuisine after centuries of Venetian rule, with many dishes calling for the use of italian cooking methods, italian seasonings and the heavy presence of pasta. Below are a list of local dishes that originated in Corfu but are widely enjoyed throughout the Ionian region.
Mandolato: This is the Greek's soft nougat delight made of a light meringue enriched with; honey, sugar and almonds. This sweet is found throughout Greece but is highly associated to the Ioanian region.
Pastitsada: This dish hails from Corfu and typically uses rooster or beef. The meat is seared and then sautéed in a flavourful tomato sauce and includes; onion, garlic, wine, nutmeg, cinnamon, cloves and olive oil. Pastitsada is served
over pasta and topped with grated cheese.
Greek Sofrito: Tender cuts of beef or veal are lightly dredged in flour and then sautéed in a white wine based sauce. It is then seasoned with garlic, parsley and vinegar and served with potatoes or crusty bread. This dish is considered an island delicacy.
Bourdeto: This dish consists of fresh fish served in a rich tomato sauce flavoured with onion and sweet and spicy paprika. Any saltwater fish can be used, but the most popular is Scorpionfish. The dish is finished off with a splash of lemon and served with potatoes.
Frygadeli: This popular appetiser or mezze dish is veal liver seasoned and wrapped in lamb suet, then skewered and grilled over charcoal. It is eaten like souvlaki with a drizzle of lemon and the accompaniment of pita of crusty bread.
Events and festivals 10th February
The Feast day of Charalambos, Protector Saint of Paxi: Food, drinks, music and dancing are ubiquitous.
July 20th: The Prophet Elias is celebrated in the village of Lakka.
15th August: The Assumption of the Virgin Mary: Locals attend Mass, which is then followed by traditional music, dancing and feasts.
August-early September
Paxos Music Festival: Every year, the Paxos Music Festival focuses on "the advancement of education in music and the promotion of the understanding of music to a wider public". Founded by John Gough, this festival attracts both Greek and international musicians of the classical genre.
Summer
Paxos Contemporary Art Project: The whole island turns into an open-air art gallery exhibiting; installations, sculptures, video art and performances.